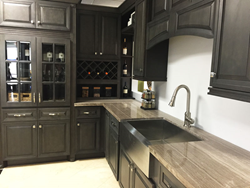 San Diego, CA (PRWEB) November 23, 2015
Gray kitchen cabinets can make the kitchen space look fresh and fashionable.
Kitchens are one of the most used rooms within a property so trying to choose the right color and design is important. CabinetDIY, who has become a leading supplier of kitchen cabinets, has said Gray Kitchens have become very fashionable this year. The kitchen expert has put together tips and advice on using Gray Cabinets when remodeling a home. These tips will help homeowners create a fresh looking kitchen using Gray cabinets and other colors.
According to CabinetDIY, a kitchen needs to be warm and inviting, and although gray kitchens are in fashion, it's important to use other warm colors such as yellow, red or orange to accomplish that warm feeling. These type of colors can help a kitchen stand out especially when using warm colors for tables, chairs and kitchen accessories.
The shade of gray for kitchen cabinets will depend on the size of the kitchen. If a kitchen space is small and the homeowner installs dark gray kitchen cabinets then the space will become smaller. That is why it's important according to CabinetDIY to choose a lighter gray with small spaces. If the homeowner is still determined to use a darker gray then, it's important to improve the natural light for that room as well as adding additional lighting.
When finishing off the new kitchen design a nice light wood flooring combined with natural kitchen worktops will help open up the kitchen and achieve a warm, welcoming feeling.
A spokesman for CabinetDIY said: "Gray cabinets have become popular for helping to modernize a kitchen. We provide a whole range of gray RTA cabinets with free delivery to help homeowners achieve a fresh look for their kitchen.
For more information on the wide range of affordable kitchen cabinets available, or to visit the new mobile friendly website, please visit http://www.cabinetdiy.com
About CabinetDIY
CabinetDIY was established in 2004 to provide professional interior design services and products throughout North America and beyond. The company's team takes each customer's need, complaint or suggestion seriously, constantly improving their services and products to meet the demands for quality, uniqueness, and diversity of the today's generation.