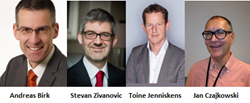 What is immeasurable but most valuable for Vivit is the level and depth of our volunteers' talent and expertise and their ability and willingness to share it with others.
Boulder, CO (PRWEB) November 30, 2015
Vivit today announced the EMEA award winners at the Hewlett Packard Enterprise (HPE) Discover Conference in London, UK. The Board of Directors presented:

Champion of the Year Award to Andreas Birk (Germany)
Leader the Year Award to Stevan Zivanovic (United Kingdom)
Speaker of the Year Award to Toine Jenniskens (The Netherlands)
Top Virtual Contributor Award to Jan Czajkowski (Sweden)
This year marks the seventh anniversary of the awards presentation recognizing outstanding service to the non-profit Vivit community. Winners were chosen from submissions by members worldwide.
"Our volunteers are priceless," said Tammy Young, Local User Group and Special Interest Group Chair, Board of Directors. "There are several recent studies showing the current hourly dollar value of a volunteer is 23.07 USD. These studies are based on hourly earnings of non-supervisory rolls for workers using the U.S. Bureau of Labor Statistics numbers. All very clinical information. What is immeasurable but most valuable for Vivit is the level and depth of our volunteers' talent and expertise and their ability and willingness to share it with others. The network of members and volunteers and knowledge sharing these leaders bring to the Vivit organization are our secret ingredients. These volunteers contribute great ideas and spark innovation in the HPE software community. These elements create the priceless value to Vivit and to the HPE community."
Champion of the Year:
Dr. Andreas Birk received the Champion of the Year Award for expanding the Vivit user community through his long-standing leadership of the Testing, Quality, and Application Lifecycle Management (TQA) Special Interest Group (SIG). He co-founded the TQA SIG in 2008 and since has driven TQA activities, particularly in Germany and Switzerland. With his facilitation and support, the TQA SIG created several new regional networks. His contributions have resulted in a thriving TQA community with group meetings in Europe and webinars for members worldwide.
Dr. Birk, Founder and Principal Consultant of Software.Process.Management in Germany, has more than 25 years of experience in the software domain. His focus is on requirements management and large-scale agile development, and he helps organizations establish tool-supported work practices. Dr. Birk received the Leader of the Year award in 2010.
Leader of the Year:
Stevan Zivanovic received the Leader of the Year Award for his guidance of the Agile Local User Group in the United Kingdom, hosting webinars and meetings and representing Vivit in the region. He focuses on setting up regular meetings in London for HPE software users interested in Agile.
Zivanovic, Principal Account Director at Infuse Consulting Ltd. in London, has over 23 years of IT work experience and has enabled enterprise organizations to deliver software through enhanced technical testing approaches which involves combining process improvements, test tool usage, and efficient and affective test design. Zivanovic is passionate about the professionalism of testers and is active in the ISO29119 standard in Software Testing, the British Computer Society and ISTQB. In recent years, through direct experience of using agile practices, he has supported organizations to transform their development processes to being agile.
Speaker of the Year:
Toine Jenniskens received the Speaker of the Year award for sharing his practitioner's expertise on DevOps through webinars hosted by Vivit as well as frequently speaking at annual Discover events and local events in The Netherlands.
Jenniskens, Business Architect Infrastructure and IT Management, Rabobank IT Nederland, holds a masters degree in Social Sciences and specialized in management of service organizations. Throughout his career, he has held positions as lead operations architect, product manager, project manager, department manager, and ITIL process manager. He also serves as the Chairman of Interexperience, the Dutch HPE user community and alliance partner with Vivit and Connect. Jenniskens believes in sharing knowledge and insights to help others succeed; in return, more insight comes back to him. "Knowledge is power. Sharing knowledge is even more so…," says Jenniskens.
Top Virtual Contributor:
Jan Czajkowski received the Top Virtual Contributor Award for his participation in and contributions to Vivit's website which is the hub of the worldwide community. He has been a member since 2007 and co-leads the Swedish Local User Group, HUGS, serving on the Board for the past five years and as the Chairperson for the past year and a half. Czajkowski is a frequent contributor to forums discussing Application Lifecycle Management (ALM) / Quality Center related topics, like the HPE community forums, TDForums, LinkedIn, and Vivit forums. He also participates in all online Board of Directors nominations and elections.
Czajkowski is a Quality Center Consultant at SQS Sweden with over 14 years of experience in ALM/Quality Center as well as Unified Functional Testing. He has been working with a great number of customers in Sweden and Norway, implementing upgrades, workshops, mentoring, and day-to-day maintenance. Czajkowski has been teaching HPE courses on Quality Center and Quick Test Professional in the Nordics during the past 9 years, and he also created his own two-day course in Quality Center Scripting. In 2015, he received the Leader of the Year Award.
About Vivit:
Vivit is a non-profit corporation founded in 1993 (as OpenView Forum) by customers of Hewlett Packard Enterprise software products to represent the interests of customers, developers, and partners worldwide. Vivit represents and serves the broad Hewlett Packard Enterprise software and solutions community and is the endorsed Hewlett Packard Enterprise software users group. Vivit currently has members all over the world representing all areas of business and industry.