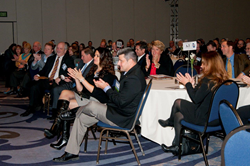 The summit exceeded all expectations.
Atlanta, Georgia (PRWEB) November 23, 2015
"I believe that the Georgia Manufacturing Summit is exactly what is needed to create local connections and build a strong sense of community in this industry. By supporting each other, Georgia manufacturers are growing their businesses and positioning Georgia as the leader in the re-birth of manufacturing in our county," said Jason Moss, CEO of Georgia Manufacturing Alliance (GMA).
The summit began with the "People of Manufacturing" Awards program. The moderator for the section was Bill Woerner of Mid-Town Consulting. The winners were:

Front Line Leader - Chet Hale of Simmons Serta Bedding.
Plant Manager - Harold McNeil of Tarkett Sports
Team Safety - Jeff Rood and Charles Bucy of Decostar / Magna Corporation
Team Operational Excellence – there was a tie with this award - Lean Six Sigma Group of FiberVisions and the Production Team of Custom Plastics and More
Following the awards program, Phil Horlock, CEO of Blue Bird Corporation, was the morning keynote speaker. Mr. Horlock spoke about "What's Going On at Blue Bird?". He shared some interesting facts about the school bus industry and their journey of becoming a publicly-traded company. The crowd was intrigued by the story of Blue Bird's journey from having 21% market share of school bus sales in Georgia in 2011 to now dominating the state with over 62% market share in 2015.
Randy Jackson, Senior Vice President of Human Resources and Administration for Kia Motors Manufacturing Georgia (KMMG), was the afternoon keynote speaker. Mr. Jackson was the first American hired at KMMG. Currently, KMMG has created more than 15,000 jobs in West Georgia. Randy attributed much of their success to the corporate culture "The Kia Way." By building on a foundation of trust, all team members are encouraged to have open communication about anything that happens in the plant. "Effective two-way communication is critical when you operate on a just in time model with only four hours of inventory and rolling a new car off the line every 57 seconds. It all starts with a one system, one team approach, all pulling in the same direction," said Jackson.
A panel discussion on "Manufacturing a Better Bottom Line" was the last session of the day moderated by Matt Reed of GeorgiaCEO. The speakers and topics were:
Melvin Haas - Constangy, Brooks, Smith & Prophete, LLP - Georgia Employment Law Updates for Manufacturers
Tim Howe - Smith & Howard - Sales & Use Tax for Manufacturing
Archie Jones - NOWaccount - Funding Growth Affordably and On Your Own Terms
Ralph Pasquariello - Snellings Walters - Cyber / Data / Network Liability
"The summit was a huge success. The speakers and attendance exceeded all expectations. We are already gearing up for 2016 and have secured more space so that we can accommodate the demand. GMA is here to support Georgia's manufacturing community," said Jason Moss, CEO of GMA.
About the Georgia Manufacturing Alliance
The Georgia Manufacturing Alliance is a professional organization founded in 2008 to support Georgia's manufacturing community. GMA provides monthly plant tours, educational sessions and unique networking opportunities designed to help make profitable business connections for its members. To learn more about the organization, visit http://www.GeorgiaManufacturingAlliance.com