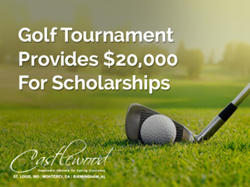 We are thrilled at how successful this event has become. Partnering with Project HEAL and continuing to raise funds means we can reach more people who are in desperate need of treatment.- Nancy Albus, CEO, Castlewood Treatment Center for Eating Disorders
ST. LOUIS, Missouri (PRWEB) November 25, 2015
Castlewood Treatment Center for Eating Disorders, together with Project HEAL, will provide scholarships for people struggling with eating disorders as a result of the $20,000 raised at the center's recent golf tournament. Proceeds from the second annual event, held at Fox Run Golf Club in Eureka, will help individuals who otherwise might not seek treatment for their life-threatening conditions because of financial restraints.
National statistics indicate that more than 30 million people in the United States suffer from an eating disorder, but only one in 10 receive treatment. By working with Castlewood, Project HEAL will continue offering grants to people who cannot afford treatment and pursue its mission of educating the public, medical community and government institutions about eating disorders.
In the words of a former scholarship recipient, the support she received made it possible for her to reclaim her life. "When I first found out about the Project HEAL scholarship I was totally immersed in my eating disorder," she said. "All I cared about was losing weight. I was living like a robot, with no emotions and numb to all the joy the world had to offer. I had lost any hope that I would recover from my eating disorder. At some point, I realized I could not live the rest of my life this way, but since my family has limited financial resources, I knew I had to seek outside help to obtain treatment. When I saw that I had been selected for the treatment grant. I was so thankful yet so scared. Castlewood changed my life. I had an amazing therapist and dietitian who helped me through difficult obstacles to get closer to recovery. I can finally say I'm living, not just surviving."
Anyone interested in applying for a Project HEAL scholarship can find additional information on the organization's website at theprojectheal.org. Assistance for inpatient, residential, intensive outpatient and outpatient treatment is available. Motivation is a key factor in the process of selecting scholarship recipients. Recovery from eating disorders is a long-term commitment, and Project HEAL looks for serious intention for recovery from applicants.
About Castlewood
Castlewood Treatment Center for Eating Disorders, with headquarters in St. Louis, also has locations in Monterey, California, and Birmingham, Alabama. Castlewood's multi-disciplinary approach to recovery includes nurses, dietitians, psychiatrists and therapists. By bringing a variety of skills to the treatment plan, Castlewood professionals assure each client of attention to specific needs. Individualized treatment plans are designed to help clients stabilize, discover the underlying causes of symptoms and pursue a plan of transformation. Families are included in the therapeutic process in order to provide the best possible support and to facilitate understanding of the family dynamics involved in eating disorder situations. Castlewood's comprehensive treatment includes after-care resources and alumni programs to provide ongoing support after residential treatment has been completed. Additional information about Castlewood can be obtained by visiting the website at http://www.castlewoodtc.com, or by calling (877) 937-8930.
About Project HEAL
Project HEAL is a non-profit organization that provides grant money for people with eating disorders who cannot afford treatment. Its mission is to promote public awareness about eating disorders and to encourage healthy body image and self-esteem. Founders of the organization say that more than 90 percent of people who suffer from eating disorders do not or cannot get the help they need. As sufferers of eating disorders themselves, they have made it their life goal to educate people about eating disorders and to help sufferers save their lives.