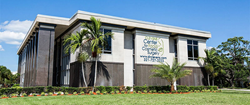 MELBOURNE, Fla. (PRWEB) November 23, 2015
Clevens Face and Body Specialists is among the first practices in the country to offer SculpSure, a new FDA-approved treatment that melts 25% of a patient's body fat in just 25 minutes. SculpSure is the world's first non-invasive laser treatment for reducing pockets of stubborn fat such as in the abdomen and flanks with no surgery and no downtime.
"We recognized many of our patients want the benefits of body contouring but don't want the downtime following surgery because of their active lifestyles," says Dr. Clevens. "SculpSure is an ideal solution for those patients. Unfortunately, while eating right and exercising regularly have tremendous health benefits, that combination doesn't always result in a lean, contoured physique and sometimes the bulge just won't budge. SculpSure is a great option for men and women who have unwanted fat that persists despite diet and exercise. Now, they can achieve their goals of looking and feeling their best – without surgery or downtime."
Studies show SculpSure has been proven more effective than older technologies such as CoolSculpting. Other advantages include that SculpSure is safe for all skin types, and the treatment can also help tighten the skin while simultaneously reducing the fat. More than 90% of treated patients have been satisfied with their SculpSure results.
SculpSure uses a laser technology to heat the subcutaneous fat cells so they can be broken down naturally by the body over six to 12 weeks after just one 25-minute treatment. The heat of the laser is offset by a cooling technology to ensure patient safety and comfort during the procedure. Patients can return to work and other normal activities immediately.
To learn more about SculpSure, call Clevens Face and Body Specialists at 321.727.3223 to schedule a complimentary consultation.
About Clevens Face and Body Specialists
Trained at Yale, Harvard and the University of Michigan, Ross A. Clevens, MD, FACS is Brevard's Double Board Certified Facial Plastic and Reconstructive Surgeon. As founder of Clevens Face and Body Specialists, Dr. Clevens realized his dream of building a multi-specialty aesthetics practice to provide comprehensive patient care. Our surgical team features Dr. Clevens, who has specialized in facial plastic surgery for nearly 20 years, and Amy Ortega, MD – the area's only Board Certified Plastic Surgeon who is Double Fellowship Trained and specializes in plastic surgery of the breast and body. Dr. Ortega is best known as the "Mommy Makeover Doctor" and for bringing the SPAIR Short-Scar Breast Surgery technique to the South.
With offices in Melbourne, Merritt Island and Vero Beach, Clevens Face and Body Specialists offers Cosmetic & Reconstructive Facial Surgery, Breast & Body Plastic Surgery, NeoGraft Permanent Hair Restoration, Injectables & Fillers, Laser Treatments, Laser Hair Removal, Skin Cancer Care and Medical Grade Skin Care. A portion of all proceeds benefits Face of Change, the nonprofit organization founded by Dr. Clevens and his family to provide food and medical care for children locally and abroad.
Clevens Face and Body Specialists
707 W Eau Gallie Blvd
Melbourne, FL 32935
321.727.3223
http://www.drclevens.com