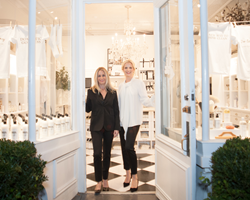 In the same way that The Laundress has returned the lost art of laundry care to the laundry room, our store represents a return to the principles of retail: one-on-one interaction, exceptional customer service and an elevated sensory experience.
New York, NY (PRWEB) November 20, 2015
The Laundress, a global detergent, fabric care, and home cleaning company, has opened their first U.S. Flagship Store in New York City's SoHo district at 199 Prince Street. The new expansion allows the decade-old business to engage in direct dialogue with their clients while providing a tangible experience. The space will be a one-stop-shop for The Laundress' curated selection of eco-friendly products.
Gwen Whiting and Lindsey J. Boyd, The Laundress Co-Founders, created the product line based on their personal frustrations of caring for their wardrobes. Their expertise acquired from studying fiber science and working for fashion brands Ralph Lauren and CHANEL made them well suited for their role as cleaning innovators, educators and domestic tastemakers. The Laundress' new store serves as a platform to showcase their coveted Detergent, Fabric Care and Home Cleaning Collections, build a deeper, more personalized connection/experience with their customers and share their cleaning discoveries. Upon walking into the store's picturesque laundry room, one will discover clothing and utility closets thoughtfully filled with must-have collaborative goods as well as new Laundress exclusives such as their customized hanger collection.
"Our focus was to make a never-before-seen domestic experience that people would find inviting while transporting them into the science, education, and efficacy of our brand. Visitors can feel confident their solutions are here, and speak directly to our expert team about their most intimate or complex clothing care questions. We want to have a one-on-one dialogue that is absolutely missing from the laundry category – and after engaging with customers over email and phone for more than ten years, we are ecstatic to interact with them on such a personal level. This open forum for customers to ask and for us to educate and demonstrate in real time is a pinnacle part of the brand experience," says Whiting.
"The Laundress store timing is in sync with our aggressive global growth strategy. In addition to retail expansion, we are developing a more cohesive design and brand communication experience, ranging from digital to wholesale and now to brick and mortar. The goal is to give each user a consistent Laundress experience regardless of the channel in which they engage us. We believe the new store fits perfectly into that initiative, as it's a great opportunity to showcase how we have transformed what was once a mundane domestic chore into a true luxury experience. The opportunities for us are limitless – after all, everyone has dirty laundry, "says Boyd.
The Laundress Flagship will provide a 1:1 interface between customer and brand, playing into the company's core strength and market differentiation. The "Ask The Laundress" Counter, the epicenter for information, serves as all-inclusive question and demo station for all things laundry and cleaning related. A second area of engagement invites shoppers to indulge in the ultimate sensory experience by allowing them to explore the brand's seven key fragrances. Planned in-store activities include: washing workshops and pop-up collaborations with fashion brands, authors and New York notables.
The store design and layout was conceptualized by Whiting and Boyd, who have spent the last twelve years dreaming of the perfect showcase for their cleaning discoveries. The 400 square foot retail store has a fresh yet traditional look with all-white display pieces, a functioning laundry room, and dream clothing and utility closets full of storage solutions, innovative supplies and artisan brushes.
"In the same way that The Laundress has returned the lost art of laundry care to the laundry room, our store represents a return to the principles of retail: one-on-one interaction, exceptional customer service and an elevated sensory experience. We are excited to merge expertise in solving age-old laundry problems with a new physical brand experience," adds Whiting and Boyd.
###
About The Laundress:
Gwen Whiting and Lindsey J. Boyd, Co-founders of The Laundress, created this eco-friendly line of detergent, fabric care, and home cleaning to turn domestic chores into a luxurious experience. Gwen and Lindsey were educated in Fiber Science, Textile and Apparel Management and Design at Cornell University. Their extensive professional experience at Ralph Lauren and CHANEL, merged with their educational backgrounds, created a unique knowledge and passion for fine fabrics and garment and home care. The Laundress products combine the highest concentration of active, biodegradable ingredients such as enzymes and plant-derived surfactants to be nontoxic and more efficacious. Each formula is custom designed for the specific fabric or surface, combining the most effective ingredients with unique and complex scents. The Laundress recently celebrated a decade in business and is available in 38 countries and over 1,500 fine retailers/boutiques worldwide including J. Crew, Barneys, Net-a-Porter, Bloomingdales, Lane Crawford, Conran Shop-Tokyo, Istean and http://www.thelaundress.com.
Press Contacts:
Bell Courtney
The Laundress
bell(at)bellpr(dot)com
646-207-3951