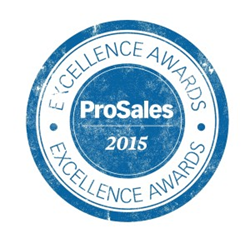 "The housing market's revival these past few years has prompted building material suppliers to revamp and diversify their operations' physical plants. They also are investing in marketing, but doing it smartly as was evidenced by this year's winners."
Washington, D.C. (PRWEB) November 23, 2015
Hanley Wood's PROSALES magazine announced today the recipients of the 2015 PROSALES Excellence Awards—the most prestigious awards program in the construction supply industry.
The PROSALES Excellence Awards honor outstanding achievements in construction supply in showroom design, facility design, technology, marketing and customer service, education, advertising, and websites. The awards program celebrates business leaders whose creativity and ingenuity have not only improved and reinvigorated their own companies but have also set new benchmarks for service in the entire industry.
The 2015 Excellence Awards winners are:

Factory Builder Stores (Kodiak Building Partners), Austin, TX / Showroom Design category
The Detering Co., Houston, TX / Facility Design category
BMC, Atlanta, GA / Technology category
Ro-Mac Lumber, Leesburg, FL / Marketing Category
Merit Award winners are:

Millard Lumber, Omaha, NE / Marketing category
Raymond Building Supply, Naples, FL / Showroom Design category
Dealers and distributors competed in seven categories: Best Advertisement or Series of Advertisements, Best Marketing Campaign/Customer Service Program, Best Showroom Design, Best Overall Yard or Facility Design, Best Educational Program, Best Safety Program, and Best Use of Technology. A panel of four independent judges then decided which entries, regardless of the category, achieved excellence and which other entries were worthy of merit.
"This is the second straight year in which awards for showroom and facility design took half the prizes," said Craig Webb, PROSALES editor-in-chief. "The housing market's revival these past few years has prompted building material suppliers to revamp and diversify their operations' physical plants. They also are investing in marketing, but doing it smartly as was evidenced by this year's winners."
Award Winner: Show Room Design
Factory Builder Stores' new Austin showroom gives visitors a full sensory experience that draws in buyers without subjecting them to high-pressure sales techniques. The approach also includes a digital sign-in system that alerts salespeople to their arrival and starts a record of visits that ultimately can lead to sales.
Award Winner: Facility Design
The Detering Company's new facility replaces an inefficient 90-year-old collection of buildings that made work extra tough in Houston's hot and humid climate. The new building is designed to channel prevailing breezes as well as capture rainwater for landscaping. There's a dust collection system in the air, smooth new concrete on the floor, and energy-saving Lucite panels on the roof. And amid this modernity, the front entrance was designed to echo the Detering family's roughly 125-year history in the community.
Award Winner: Technology
BMC's Ready-Frame won the technology prize. Ready-Frame marries some of the latest technology in computerized building design to drive a system that cuts and labels framing lumber to exact lengths needed. Then BMC bundles the lumber into packages that, when opened at the jobsite, make it simpler and faster to build a home's frame. BMC estimates this program reduces the time needed for framing by at least 20%—a significant gain these days given the construction industry's dire shortage of carpenters. BMC says Ready-Frame also reduces waste on the job site and reduces the opportunity for cutting accidents.
Award Winner: Marketing
Ro-Mac Lumber showcases local experts on a weekly radio show, as well as in regular newspaper columns. Through these marketing efforts, Ro-Mac highlights the benefits of new windows and the dangers of dryer lint—making themselves known as a resource where people can find answers to their housing questions as well as learn about opportunities to improve their homes.
Merit Award Winner: Marketing
Millard Lumber's "More Than Lumber" ad campaign and revamped website helped expand its customer base beyond pro contractors to bring in retail customers.
Merit Award Winner: Showroom Design
Raymond Building Supply's new Naples showroom features six kitchen vignettes which highlight Raymond's high-end cabinetry, doors, and windows. The building was designed to be a piece of art.
Stories about each winning entry are featured in the just-released November/December issue of PROSALES. For complete Excellence Awards coverage, visit prosalesmagazine.com/excellence.
About Hanley Wood
Hanley Wood is the premier company serving the information, media, and marketing needs of the residential, commercial design and construction industry. Utilizing the largest analytics-and editorially-driven Construction Industry Database, the company provides business intelligence and data driven services. The company produces award-winning media, both digital and print, high-profile executive events, and strategic marketing solutions. To learn more, visit hanleywood.com