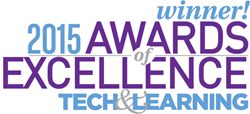 This award signifies that educators recognize Waggle's benefits for students and teachers.
New York, NY (PRWEB) November 23, 2015
Waggle, the smart-practice solution from Triumph Learning, earned a Tech & Learning 2015 Award of Excellence in the new product category. The tool was recognized for breaking new ground in education technology.
"Once again this year, the Tech & Learning judges examined hundreds of entries to select the winners of 2015's Award of Excellence. This wasn't just checking off spec sheets and surfing other people's reviews. Each product was handled and scored individually. Not an easy task." says Kevin Hogan, editorial director for NewBay Media's Tech & Learning Group. "These companies can be proud that their products were selected as winners by this prestigious team of judges."
Waggle is a blended learning tool that offers personalized learning for students in grades 2-8 in math and English language arts. By analyzing the many facets of student behavior and performance, the program tailors learning paths based on individual student needs. Educators can view data in real time to pinpoint student strengths and weaknesses and address needs to ensure student success.
"Waggle continues to be proven as an effective tool to help students master math and ELA skills," said Aoife Dempsey, CTO at Triumph Learning. "This award signifies that educators recognize Waggle's benefits for students and teachers."
Waggle was evaluated by Tech & Learning, a leading online education publication serving the K-12 education community as a resource for education technology and sponsor of the 33rd annual Awards of Excellence program. The program honors hardware, software, network and web products that make significant enhancements to educational environments and tools. All entries undergo thorough review by experts in the field whose selection criteria include how well products work in the classroom, ease of use for students and educators, and effective learning improvements.
To learn more about Waggle, visit triumphlearning.com/waggle.
About Triumph Learning
Triumph Learning, LLC, is a leading educational content company and publisher of print and digital K-12 resources, standards-aligned instructional materials and effective literacy programs. Its state-customized and Common Core products have served more than 6 million students in 36,000 schools in 2013 and 2014. Triumph Learning offers unique student solutions, robust teacher support, and professional development opportunities. Triumph Learning is committed to serving all students with a mix of interactive digital tools and innovative student texts with products such as Coach and Waggle. For more information, visit http://www.triumphlearning.com.