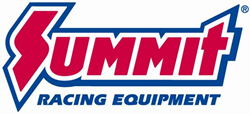 Tallmadge, OH (PRWEB) December 16, 2015
G-FORCE Arm Restraints won't compromise a driver's freedom of movement, while still allowing the necessary protection in the event of a crash. The race-ready arm restraints carry an SFI 3.3 safety rating, required by many on- and off-road race-sanctioning bodies.
While prepping its tube-chassis hillclimb buggy "Raging Bull" for SRRS competition, PowerNation TV's Xtreme Off Road team made sure to install a set of G-FORCE Arm Restraints. Watch the episode.
G-FORCE Arm Restraints are made from flame retardant foam and cloth and feature high-strength nylon for additional security. Each strap has quick-release clips, which makes the restraints easy to remove when entering/exiting the vehicle's cabin.
Sold in pairs, G-FORCE Arm Restraints come in assorted colors, and in both youth and adult sizes.
Summit Racing Equipment
http://www.SummitRacing.com
1-800-230-3030