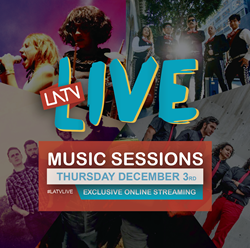 Los Angeles, CA (PRWEB) November 30, 2015
LATV Live: Music Sessions airs Thursday, December 3rd, starting at 10AM PST / 1pm EST. Viewers can watch by logging onto LATV.com.
Appearing exclusively on this live stream are:
The punk cabaret of Descartes A Kant at 10 AM PST / 1 PM EST
Emo banda sounds of Mariachi Manchester Noon PST / 3 PM EST
Tijuana psych-garage rock of The Bulbs at 2:30 PM PST / 5:30 EST
High energy dub rock of Marujah at 4:30 PM PST / 7:30 EST
Urban style cumbia of Viento Callejero at 6:30 PM PST/ 9:30PM EST
The live stream of in-studio performances will also feature previews of LATV's new digital and broadcast content.
LATV is the original, alternative, and only remaining Latino-owned TV network in the Hispanic television space. As a pioneer network, a trend-setting brand, an innovative content hub.