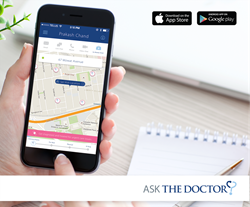 San Francisco, California (PRWEB) November 20, 2015
Ask The Doctor, the world's leading medical question and answer platform that connects patients to physicians virtually is now taking it one step further and will allow users in San Francisco and Toronto to request an In-Home visit from a general physician.
"We are excited to be able to have top doctors here in North America be able to come right to your front door," said, Prakash Chand, President and CEO of Ask The Doctor. "Our medical Q & A platform receives thousands of questions everyday and we have seen a large request from our users for In-Home visits. A survey to over 10,000 of our users found that 8 out of 10 patients with a cold or flu would prefer not to go to a walk-in clinic and would rather have the Doctor come see them if it was absolutely necessary. This was the biggest factor for us to make the push to offer this service."
Ask The Doctor will roll our out their In-Home Doctor visit service in Toronto, Ontario, Canada this February 2016, where OHIP (Ontario Health Insurance Plan) will cover 100% of the visits. The company will be expanding the service a month later into San Francisco, California and has plans for expansion into every major American city.
"As much as we love technology, in medicine it's impossible to always just communicate with patients by text chat, emails, phone or video. Those are great primary tools to speak to a patient, but sometimes that personal in-person interaction is needed and that is what our In-Home service will provide," said, Dr. Suneel Sharman, Co-Cheif Medical Officer of Ask The Doctor.
The new Ask The Doctor app will officially launch to the general public on February 1st, 2016 for all iOS and android devices.
Ask The Doctor is the worlds largest medical question and answer platform with over 500,000+ users and 35,000+ registered doctors. Users ask a doctor personalized medical questions and connect with a general physician or specialist of their choice by phone, email, text chat or video chat. Founded in 1996, the service is now available in every country in the world and is open 24/7. AskTheDoctor.com is an official research partner for the National Institutes of Health in Bethesda, Maryland. For more information visit https://www.askthedoctor.com.