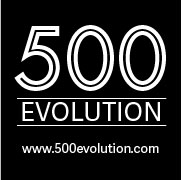 It's unfortunate but the challenges entrepreneurs face are not being meaningfully discussed today.
Austin, Texas (PRWEB) November 23, 2015
Alex Charfen, co-founder and CEO of CHARFEN, a leading training and consulting organization for entrepreneurs and small businesses, has released his book "Entrepreneurial Personality Type: Your guide to the most important and misunderstood people among us," in an exclusive, hand-signed and numbered limited release of 500 books. This intentionally limited book release launched the 500 Evolution, a global movement to prove that just 500 books can instigate a dialogue about entrepreneurs and their challenges in today's society.
The 500 Evolution follows the 500 copies of Charfen's book as they are read, signed and handed out among 100 readers each. By the end of their journeys, these books will have spread their message to 50,000 people worldwide.
"Best-selling authors have become common. We've released a limited number of books to make sure entrepreneurs connect in a meaningful way about their personalities, behaviors, suppression and challenges in today's society," said Charfen. "The conversation that these books will start is far more important than sales numbers."
"It's unfortunate but the challenges entrepreneurs face are not being meaningfully discussed today," Charfen continued. "We've printed 500 copies of this book, and that's all there ever will be. When each book connects 100 readers to each other, through information and insight about their unique attributes and worldviews, I believe we can change the world."
The 500 Evolution was launched at the 2015 Genius Network Annual Meeting, with initial participants including:

Joe Polish, founder of Genius Network
Peter Diamandis, founder and chairman of the X Prize Foundation
Dean Graziosi, best-selling author and real estate investor
MaryEllen Tribby, CEO of Working Moms Only
Robin Sharma, best-selling author and founder of Sharma Leadership International
"Most people think it takes thousands of people to make a difference," Charfen said. "We plan on demonstrating that just 500 Entrepreneurial Personality Types can ignite a global movement."
Charfen will deliver each copy of his book to individuals around the world with the request they read it within 7 days, and then pass it on to a person they believe will do the same. Before passing it along, participants are encouraged to publically post a picture of the signature page to Facebook, using the tag #500Evolution, for others to follow along in the journey of each book.
Charfen discovered the Entrepreneurial Personality Type (EPT) through research spanning business, psychology and education theories and practices, and the historical and current evidence found in the lives and works of successful leaders. This discovery led to a greater appreciation for how misunderstood the EPTs are within modern society. The 500 Evolution aims to unite EPTs in a greater understanding of themselves and how they interact with the world.
To learn more about the 500 Evolution, and download text and audio recordings from the book, visit http://www.500Evolution.com
About CHARFEN – The Way Entrepreneurs Think.™
CHARFEN provides strategies, systems and flexible models to help entrepreneurs and business owners transform their ideas by building and sustaining positive momentum. Its proprietary approaches – Entrepreneurial Personality Type™, Targeted Interactions™ and Constructive Cadence™ – are based upon fundamental attributes of how an entrepreneur's mind works. Having helped tens of thousands of entrepreneurs grow their small businesses, CHARFEN ranked on the Inc. 500 | 5000 list of fastest-growing private companies in America three years in a row, reaching as high as #21. Join the movement today: http://www.WeAreEPT.com