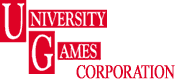 San Francisco, CA (PRWEB) November 22, 2015
University Games is excited to present our full holiday line-up of games, brain teasers, and puzzles. With a focus on ensuring smart and fun gameplay, this range of products offers both original and licensed products and has something for kids, families, and grown-ups to play as a group or on their own. The holidays are made for spending time with family and University Games has something for all kinds of players and tastes.
Here are our product highlights of the season:
Kids and Family Games

Hang on Harvey™ - An all-new two player game where players race to be the first to get Harvey down the wall. A challenging 3D board that encourages kids to think strategically with each move.
I SPY® Spooky Mansion - Based on the best-selling I SPY® book series, this game is a thrilling adventure hidden in a mysterious old house. Players spot and find the objects as they collect the keys to the mansion.
Pete the Cat® Groovy Buttons - An adorable collection and counting game based on the New York Times best-selling children's book series. Kids collect and lose different colored buttons and the player with the most buttons at the end of the game wins - with a little help from everyone's friend Pete.
Briarpatch® Games - Briarpatch offers a range of learning games teaching children the alphabet, counting, geography and creativity - all while having fun!
Let's Feed The Very Hungry Caterpillar™
Very Hungry Caterpillar™ Spin & Seek ABC Game
I SPY® Find It Fast
Crayons on the Town™
Blaze and The Monster Machines™ games - Monster Dome Challenge and Axle City Adventure
Super Why™ ABC game
Bob Books® Happy Hats™ Beginning Reading Game
State The Picture™
Brain Teasers and Puzzles

Cubix Tube™ - A unique cube puzzle with a marble maze inside. Players have to solve the puzzle by aligning the colors and the hollow piping to allow the ball to move through the maze. Twice the challenge, twice the fun, and twice the satisfaction when you solve it.
Smart Egg® - Revolutionary new 3D labyrinths that come in one or two layer difficulty levels. A challenge for enthusiasts of all ages.
Hanayama - Created by inventors around the world, these Mensa-rated cast metal puzzles encourage players to think differently as they try to separate the metal pieces. Over 65 different puzzles including 21 new designs.
3D Crystal Puzzles™ - 3D translucent puzzle pieces take puzzling to a whole new dimension with unique designs that are a challenge to build and beautiful to display. Licensed characters include Cinderella and Tinkerbell.
Games for Grown-Ups

Dirty Words® - An irresistibly fun game where players are encouraged to make dirty sentences out of not-so-dirty dice. It all comes down to who has the dirtiest and most creative mind.
Smart A**® - Players listen to the clues and try to be the first to identify the mystery - who, what or where to win.
Dumb A**® - Flipping Smart A** on its head, this game encourages players to pick the wrong answer. No one will feel dumb when being right is so wrong.
For more information about University Games or to look at our catalog, please visit http://www.ugames.com.
Check out our YouTube channel for videos on our latest product http://www.YouTube.com/universitygamessanfrancisco
To order any games online, visit major retailers including: Amazon.com, or Areyougame.com.
ABOUT UNIVERSITY GAMES
Founded in 1985, University Games has developed and manufactured over 500 games, puzzles, and children's learning and activity sets for families, kids, and adults to play. The company philosophy has always been to offer products that encourage fun, creativity, and imagination. The company offers a wide array of products under University Games®, Briarpatch®, BePuzzled®, U-Create™, Great Explorations® and Front Porch Classics®. To learn more about University Games, go to http://www.universitygames.com.
Contact:
Marcella Churchill
University Games
(415) 934-3734
marcellac(at)ugames(dot)com
Tali Fischer
University Games
sf.tali(at)gmail(dot)com