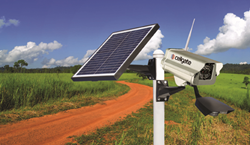 'We have a lot of experience serving this segment (farm and ranch owners), and understand the security and monitoring challenges many of them face,' said Noul Gouldin, Founder and CEO, CellGate.
(PRWEB) November 21, 2015
The 2015 National Cutting Horse Association World Championship Futurity begins November 19th and runs through December 12th. The Futurity is held at Will Rogers Memorial Center at 3401 W. Lancaster in Fort Worth, TX and features the best riders and 3-year-old cutting horses from around the country. In addition to numerous sporting competitions throughout the three-week period, there are also vendors exhibiting products for the horse and ranch worlds.
One first time exhibitor to the NCHA Futurity is cellular security company, CellGate. Over the last decade, CellGate has developed a suite of security-based products that encompass smart keypad entry, voice and camera solutions. Horse farm and ranch owners are key customers for CellGate because they have some challenging yet specific security requirements. For example, access gates on farms and ranches are often quite a distance away from the home(s) on the property, making a cellular access control solution for gates ideal to control and monitor who is coming and going. With CellGate's access control products, a farm or ranch owner can: control who has access to enter a gate and when; receive alerts if a gate is left open; and view logs of who has entered a gate based on the code entered into a keypad. Photo documentation at a property entry point can also be sent real-time or reviewed later if they wish. In addition to gate access control requirements, farm and ranch owners also have ongoing needs to monitor important assets like a group of horses or cattle, expensive ranch equipment, or vehicles, etc. CellGate has products that address this requirement as well. Most importantly, a farm or ranch owner can manage all of these security and monitoring tools via the Internet or from CellGate's smart phone app, so they can literally control and monitor their property from anywhere in the world.
CellGate President, Noel Gouldin, is excited to be exhibiting at the NCHA Futurity because it will allow his staff to spend a significant amount of time with both existing customers and new prospects currently unfamiliar with CellGate's technology. "The farming and ranching communities were one of the first customer segments we approached with our products when they were first developed, so we have a lot of experience serving this segment and understand the security and monitoring challenges many of them face," said Gouldin. "It will be great seeing so many of our existing customers, and we can't wait to show them some of the new products we have recently introduced, like CellCam, our new stand-alone cellular security camera."
Because CellCam is solar-powered and uses cellular technology, it can be installed anywhere that a farm or ranch owner wants to monitor something. Once the Cellcam camera is installed at the desired location, pictures are immediately transmitted to CellGate's cloud-based servers and forwarded to any designated cellphone or email address. Pictures are stored for six months, and can be accessed by CellGate's smart phone application or via any computer with a web browser. The idea for CellCam was inspired by a customer who purchased a gate access control product with camera from CellGate, and mentioned that they would also love to be able to photographically monitor other things on their property. Gouldin knew that with some reconfiguration of the company's existing technology that they could have the solution this customer was requesting.
"It became clear to us early on that our farm and ranch customers not only had gate access control needs, but monitoring needs for other parts of their properties as well," said Gouldin. "With our new CellCam product, farmers and ranchers can photographically monitor their most valuable horses and cattle, see who is entering a particular barn and when, check feed and water levels in a location, just about anything important or valuable to them. The applications for CellCam on a ranch or farm are truly endless."
Cellgate will be showing CellCam and the rest of their cellular security product suite out of Booths 1038 and 1040 at the Will Rogers Memorial Center throughout the 2015 National Cutting Horse Association World Championship Futurity. Tickets for the three-week-long event can be purchased by going to http://www.nchacutting.com/ag/shows/futurity_home.php.
CellGate provides products and services for remote monitoring over cellular networks. They are the only technology company with a complete suite of cellular-based security products—encompassing smart keypad entry, voice and camera solutions. With their smart phone application and proprietary web-based portal built on Microsoft Azure's cloud service, CellGate offers flexibility found in no other access control or monitoring solution. Visit http://www.cell-gate.com for more information and to view a live demo.