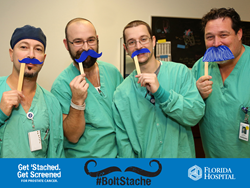 The Lightning are very happy to once again collaborate with Florida Hospital to bring awareness to Men's Health issues
Tampa, FL (PRWEB) November 21, 2015
Florida Hospital and the Tampa Bay Lightning are partnering in the fight against prostate cancer, testicular cancer and other conditions specific to men during the "Get Stached" campaign. November is national men's health issues awareness month, knows as "Movember" after Mo, which is Australian slang for mustache. During the month of November, members of the community are encouraged to share pictures of their mustache as a call to action for men to get screened. Pictures are being shared on social media including Instagram and Twitter, with the hashtag #BoltStache.
"Florida Hospital is elevating healthcare for our Tampa Bay community. Through our Tampa Bay Lightning partnership, we can connect with men, women and families with vital health information that can be presented in both a fun and informative way while encouraging them to take action," said Lauren Key, Florida Hospital West Florida Region Vice President of Marketing.
Florida Hospital is partnering with the Lightning on this important campaign to spread the word about the importance of cancer screenings. The campaign targets men 50 and older to get screened for prostate cancer to increase the likelihood of survival. Prostate cancer is the second most common cancer in American men and the second leading cause of death among them. Prostate cancer is a serious disease, but it detected early there is a nearly 100 percent five-year relative survival rate. More than 2.9 million men in the United States who have been diagnosed with prostate cancer at some point are still alive today.
"The Lightning are very happy to once again collaborate with Florida Hospital to bring awareness to Men's Health issues, as well as early detection and prevention," said Steve Griggs, Tampa Bay Lightning CEO. "We'd like to thank Florida Hospital for continuing to be one of the Lightning's top-tier community partners and for allowing Bolts fans the opportunity to participate in this awareness campaign."
Florida Hospital is the Presenting Sponsor of the 2015-16 Lightning season and the Official Health and Wellness Partner of the Tampa Bay Lightning. Florida Hospital has been a sponsorship partner since 2011, and it is also the official healthcare provider of the Tampa Bay Storm. Florida Hospital will present Heart Health Awareness night as the Tampa Bay Lightning take on the St. Louis Blues on February 14, 2016 to coincide with American Heart Month. Florida Hospital is also a major sponsor of the Lightning's annual Bolt Run. The two organizations are committed to partnering on additional health and wellness initiatives throughout the year.
Florida Hospital and Tampa Bay Lightning Key Dates:
February 14, 2016 - Heart Health Awareness Night
March 26, 2016 – Bolt Run
About Florida Hospital West Florida Region
The Florida Hospital West Florida Region is a not-for-profit 1,275-bed hospital system composed of 9 hospitals including Florida Hospital Tampa, Florida Hospital Pepin Heart Institute, Florida Hospital Carrollwood, Florida Hospital at Connerton Long Term Acute Care, Florida Hospital Zephyrhills, Florida Hospital Wesley Chapel, Florida Hospital North Pinellas, Florida Hospital Heartland Medical Center Sebring, Florida Hospital Heartland Medical Center Lake Placid and Florida Hospital Wauchula. Part of the Adventist Health System, Florida Hospital is a leading health network comprised of 22 hospitals throughout the state. For more information, visit http://www.FloridaHospital.com.
About Tampa Bay Sports and Entertainment, LLC
The 2004 Stanley Cup Champion Tampa Bay Lightning and the leasehold rights to AMALIE Arena were purchased by an entity controlled by Jeff Vinik in March, 2010. Shortly thereafter, Vinik also purchased the Tampa Bay Storm of the Arena Football League. Since acquiring these assets, Vinik has spearheaded a complete brand and business transformation of the teams and the arena under the banner of Tampa Bay Sports and Entertainment, LLC. The Lightning made it to the Stanley Cup Final in 2015, losing to the Chicago Blackhawks in six games. The Bolts won the Stanley Cup in 2004 in a thrilling seven game series against the Calgary Flames. Vinik and the rest of his management team continue to move the organization forward with eyes on success on the ice as well as a world class organization off of it.