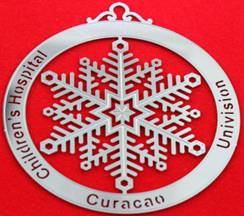 "Christmas ornaments for Children Hospital fundraising at Curacao is a tradition".said Ruth Garcia-Corrales, Curacao's Community Affairs.
Los Angeles, California (PRWEB) November 30, 2015
Curacao stores are fundraising during Christmas for the Children's Hospitals of Los Angeles, Orange County, and Tucson by selling an ornament and in Phoenix by selling a collection of Christmas cards designed by patients.
Curacao has been fundraising for eleven consecutive years during the Christmas season for the children's hospitals. All funds go to provide health services to uninsured children who use the hospitals of CHLA, CHO, PCH and TMC.
"Providing a collectible ornament has been our strategy each year, customers buy them for their Christmas trees and at the same time they are contributing to the hospitals who service families with no insurance", said Ruth Garcia-Corrales, Curacao's Community Affairs Manager. The fundraising takes place at the registers of the stores and each person receives an invoice for their donation which includes the amount accumulated at the fundraiser.
"The collection of funds is a crystal clear process, we want to make each customer aware of how much has been collected and they can keep the invoice for their records too", said Adan Rodriguez, Curacao District Manager. The ornaments are sold for $2.50 and in Phoenix, the Christmas cards are sold for $5.
"We have created a paper donation flyer where customers add their name as a testimonial of their donation and it becomes a decoration on the walls around our registers, said Elsa Baruch, Community Relationship Manager for Curacao.
Ornaments are going to be available starting on December 6th at all stores and in Phoenix, the Christmas Cards are on sale now.
###
About Curacao
Curacao is one of the leaders in the retail industry market; its chain of department stores are consistently included among the top 50 electronics and appliance stores in the United States. Each of its 11 stores located in California and Arizona are an average of 100 thousands square feet and offer a wide range of products, services and proprietary credit. Curacao has been well known for gaining consumers by innovating marketing tendencies for three decades. Founded in 1981, the headquarters is based in its main store in downtown Los Angeles.
For more information visit: http://www.icuracao.com.