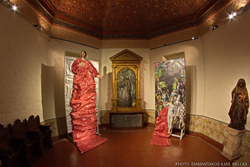 (PRWEB) November 23, 2015
The Museo del Greco in Toledo, Spain, for the first time in its history, opened its doors on November 11th, 2015 to an extraordinary exhibition by the contemporary and internationally recognized artist of Greek descent, Nikos Floros, commemorating one of the most renown and significant artists of all time, Domenikos Theotokopoulos (known as El Greco). Highlighting the significance of this exhibit, the Museo del Greco exhibited works of a contemporary artist, Nikos Floros, side by side with original works of the grand master who inspired him. Mr. Floros works, primarily utilizing the recycled aluminum Coca-Cola cans for which he has become well-known around the world, were magnificent sculptural paintings.
An overflow crowd of international dignitaries entered the opening of the exhibition on Wednesday, November 11th through the private entrance used by El Greco himself, again another first. The exhibit, scheduled from November 11th 2015 through January 10th, 2016 is coorganized by the Prefecture of Southern Aegean of Greece, with support of the Greek Ministry of Education, Culture and Athletics, the Embassy of Greece in Spain, UNESCO, the Spanish Ministry of Culture and the George Best Costacos Cultural and Cancer Research Foundation.
The Director of the Museo del Greco, Juan Antonio Garcia Castro, welcomed Nikos Floros and the distinguished guests to the opening of the exhibition at the "home" of El Greco, and remarked on the significance of the exhibition. The Ambassador of Greece to Spain, Honorable Nikolaos Pazios also spoke of the uniqueness of the works of both artists, El Greco presented side by side with the works of Nikos Floros. Honorable Giorgios Hatzimarkos, Governor of the Region of Southern Aegean, Greece, remarked on the great success of the exhibition in Rhodes, Greece, where it had been exhibited prior to Toledo. The distinguished Olympic Gold Medal Winner in Gymnastics (Atlanta, 1996), Ioannis Melissanidis, added to the cultural program of the opening with a reading of excerpts from Report to El Greco, one of the most significant works written by another internationally recognized artist from Crete, Greece, Nikos Katzantzakis.
Also present were Honorable Antonios Toumazis, Ambassador of Cyprus to Spain, Mr. M. Kokkinos, Director, General Secretary of Greeks Abroad, Mr. Antonis Kambourakis, President of the Organization of Hotel Owners of Rhodes, Greece, as well as many other eminent members of the business and cultural and scientific communities of Spain, Greece and the United States.
The exhibition includes five works by Nikos Floros, dedicated to and inspired by the work of El Greco and commemorates the 400 year anniversary of his death. The sculptural paintings are composed primarily of the recycled aluminum cans, including Coca-Cola cans, among others, which characterize Mr. Floros' work.
Resurrection of Jesus Christ, 4.5 m x 3 m
Disrobing of Jesus Christ, 5.5 m x 3 m
Crucifixion of Jesus Christ, 3 m x 2 m
Pieta, 2 m x 3 m
Portrait of El Greco, 1.10 m x 80 cm.
Nikos Floros remarked, "Today one of my lifelong dreams has become a reality: to present my artwork next to the work of the Grand Master. Toledo offered El Greco the opportunity to develop his talent and it is of great significance for us artists to discover our very own Toledo."
Aristotelis Karantis, curator of this and all of Nikos Floros' exhibitions, spoke in Spanish and remarked on the significance of exhibiting the works of a contemporary Greek artist, Nikos Floros, next to those of the Grand Master.
Julia Sysalova, producer noted that of this exhibition of works at the Museo del Greco follows several very successful exhibitions including at the Palace of the Grand Master of the Royal Knights in Rhodes, Greece (September-October 2015), and at the Cathedral of St. Isaak in St. Petersburg, Russia, which opened its doors for the first time to a contemporary artist.
All of Nikos Floros' exhibitions are curated by Aristotelis Karantis, produced by Julia Sysalova and photography is by Ilias Diamantakos.
Nikos Floros was born in Greece and has lived and worked in several major cities around the world. He studied at the School of Fine Arts (Ecole des Beaux Arts) in Paris as well as classical piano and classical theater in Greece. Nikos Floros has exhibited around the world and his sculptures are in museums and private collections. Nikos Floros' art has received global recognition, numerous awards, and was chosen by the Brazilian educational system for inclusion in their instructional textbooks. Mr. Floros has received international acclaim and numerous awards for his talent and unique work. His exhibitions have been covered by international news media including Reuters, BBC, Sky News, ABC News, New York Times, Vogue, W, Associated Press, International Wall Street Journal, Getty Images, Fashion TV, Itar-Tass, etc. (For more information visit, http://www.nikosfloros.com.)
Doménikos Theotokópoulos (1541 – 7 April 1614), known as El Greco, was born in Crete, Greece where he trained and became a master. At the age of 26, he travelled to Venice, in 1570 he moved to Rome, where he enriched his style and studied with such influential artists as Tintoretto and Titian. In 1577, he moved to Toledo, Spain, where he lived and worked until his death. In Toledo, El Greco received several major commissions and produced his best-known paintings. Major characteristics of his work and art were his proclivity for originality and innovation, eccentricity, and his inclination for aberration against the conventions imposed by the norm of the Renaissance.
Doménikos Theotokópoulos has, undoubtedly, influenced many artists throughout history and one such artist is Nikos Floros who, as with Pablo Picasso, considers El Greco his 'Father'. Doménikos Theotokópoulos inspired Nikos Floros to develop a new technique - that of the sculptured paintings. Utilizing recycled aluminum cans, which Mr. Floros weaves into a fabric-like material, the sculptured paintings he creates are truly unique and magnificent. This original method was created and patented by Nikos Floros and characterizes his works.
More information at http://www.nikosfloros.com.