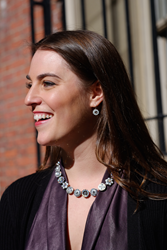 [Small businesses] can also take time to look beyond the bottom line and reach out in a more personal way, to simply thank people
Delray Beach, Florida (PRWEB) November 25, 2015
"At our store, it's a shared journey," said Mindy Zwerin, owner of the Vixity Jewelry store in Delray Beach. "Our inventory reflects more than just merchandise, it's jewelry with an edge; gorgeous, unique, sparkly…yet with a much deeper meaning. People enter our brick and mortar store as potential customers and they honestly leave as friends," she said. "We're bringing the same level of care, concern and connection to Vixity.com."
With so many customers who stumble upon the store while on vacation or visiting, it quickly became clear Vixity needed an online presence to stay connected. "In order to allow people who love Vixity to purchase things online, and in the process grow our business, we launched Vixity.com to open another door."
With the store's core mantra, "gratitude and thankfulness," Zwerin decided to celebrate her second year in business by showing her appreciation with a whopping 40% off everything at Vixity.com with the offer code BLACKFRIDAY at checkout thru Cyber Monday, 11/30.
With 35 years experience in the retail jewelry industry, Zwerin is a talented stylist with a rare eye for elegant, beautifully crafted jewelry with true pedigree. In 2013 she finally realized her dream and opened her own shop with a unique vibe and an array of "off-the-beaten" track designers.
  "In the competitive consumer markets of 2015, small businesses can no longer survive without a strong online presence," said Zwerin. "But they can also take time to look beyond the bottom line and reach out in a more personal way, to simply thank people." Creating a clean, user-friendly website with personality and style was paramount to Zwerin: "I wanted even the jewelry descriptions to reach out and touch the customer. Some even will make them chuckle." To celebrate its launch, she is making it worthwhile to log on and explore!
     Customers can visit Vixity.com to view sparkling photos and detailed descriptions of the handmade jewelry Zwerin carries in the store.  Vixity Jewelry will offer seasonal promotions for online holidays, none more inclusive than their Black Friday thru Cyber Monday "thank you," where Vixity.com will offer 40% off every single item on their website for the entire weekend.
   
 Visit Vixity.com this weekend to receive 40% off everything online.  Vixity is also having additional in-store promotions at 812 E Atlantic Ave in Delray Beach. You can view their Holiday collection online and hear about in store events by following Vixity on Facebook, Twitter, or Instagram.http://www.vixity.com