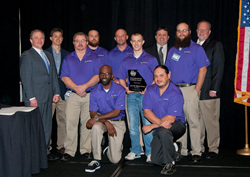 The "People of Manufacturing" Awards is designed for those who go above and beyond.
Atlanta, Georgia (PRWEB) November 24, 2015
"In an effort to bring exposure and recognition to Georgia manufacturers and their employees, the Georgia Manufacturing Alliance is honoring the people of manufacturing in Georgia that exhibit excellence on a day-in, day-out basis. We are excited to announce the addition of two new awards that recognize a team of employees that have gone above and beyond to better their organization's manufacturing operations and safety." said Jason Moss CEO Georgia Manufacturing Alliance (GMA)
Bill Woerner of Midtown Consulting was the chairman and moderator for the 2015 awards program. "It was an honor to have been selected to be the chairman for the awards this year. We were fortunate to have had a great panel of judges that worked tirelessly to evaluate the submissions and select the best nominee for each category." said Woerner.
The awards presentation was the first session of the Georgia Manufacturing Summit held on November 18th at the Cobb Galleria.
The winners for the "People of Manufacturing" Awards for 2015 were:

Front Line Leader - Chet Hale of Simmons Serta Bedding.
Plant Manager - Harold McNeil of Tarkett Sports
Team Safety - Jeff Rood and Charles Bucy of Decostar / Magna Corporation
Team Operational Excellence – there was a tie this award - Lean Six Sigma Group of FiberVisions and Production Team of Custom Plastics and More
"The awards program and summit was a huge success this year. The speakers and attendance exceeded all expectations. We are already gearing up for 2016 and have secured more space so that we can accommodate the demand. GMA is here to support Georgia's manufacturing community" said Moss.
About the Georgia Manufacturing Alliance
The Georgia Manufacturing Alliance is a professional organization founded in 2008 to support Georgia's manufacturing community. GMA provides monthly plant tours, educational sessions and unique networking opportunities designed to help make profitable business connections for its members. To learn more about the organization, visit http://www.GeorgiaManufacturingAlliance.com