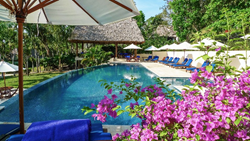 A sense of responsibility towards the protecting environment comes with the territory when you live in a beautiful place like Belize
San Ignacio, Belize (PRWEB) November 23, 2015
The Lodge at Chaa Creek's recent recognition as a Gold Member by the international certification body, Green Globe, shows that quality service and customer satisfaction can go hand in hand with environmental sustainability and responsible tourism, according to Chaa Creek's owners.
Chaa Creek co-founder and GM Lucy Fleming said that she and her husband Mick were recently advised by Green Globe that, after years of continuous certification as an environmentally responsible business, the popular Belizean eco-resort was receiving Gold Membership status.
"It's wonderful to be recognised by the world's leading certification body for continually operating in an environmentally and socially responsible manner, and it also sets an example within the tourism industry that being green doesn't need to come at a cost to quality, service or luxury," Ms Fleming said.
"In fact, sustainable practices can actually improve a business' bottom line, as our experience shows that more and more travellers are embracing responsible tourism these days," she added.
Based in Los Angeles, California, Green Globe provides training and certification for environmentally sustainable operations for travel and tourism companies in 83 countries around the world. With partners in Mexico, South America, South Africa, Middle East, the Caribbean and Europe, the organisation also retains a worldwide network of independent auditors for third party inspection and validation.
In a previous statement, Green Globe Certification CEO Guido Bauer noted that, "The Lodge at Chaa Creek is one of the more exemplary Green Globe-certified properties. From its inception, the owners, managers, and staff of this eco-resort have dedicated their business to sustainable development, as well as presenting a quality eco-tourism experience.
"Beyond the excellent interpretive activities based on the rainforest location, Chaa Creek demonstrates that social commitment is also part of true sustainability," Mr Bauer said
To achieve Gold membership, a business must have achieved continuous certification for at least five years. The certification process and standards are rigorous, according to Ms Fleming, but well worth the effort, she added.
"A sense of responsibility towards the protecting environment comes with the territory when you live in a beautiful place like Belize. Back when we were establishing a remote, small family farm in the 1970s, my husband Mick and I had strong feelings about our impact on this pristine rainforest environment, and when we began taking guests as one of Belize's first eco-resorts, we really embraced the tenets of responsible tourism. The beauty of Green Globe certification is that it helps formalise green practices, which makes it easier for staff to implement and maintain them.
"And, in a small country like Belize, there's always a ripple effect throughout the industry. We're always sharing information with our colleagues and looking at what works, and being able to show that environmental sustainability and responsible tourism not only doesn't need to cost, but can actually improve profitability, has had a big impact.
"I can't think of another tourism destination that shows such a wide commitment towards sustainability as Belize does," she said.
Ms Fleming remarked that Belize's steady growth in popularity as a travel destination presents both challenges and opportunities for the tourism industry.
"Belize's tourism industry only really took off after independence in 1981; the same year we opened Chaa Creek as an eco-lodge. Since then the growth has been impressive, and it's taken cooperation between all tourism stakeholders to ensure that this growth continues to be environmentally sustainable and benefits all members of society.
"I think we all realise that we have something very special in Belize, and we're committed to ensuring it stays that way for future generations. Fortunately, this is something our guests and travellers from around the world seem to appreciate," Ms Fleming said.
The Lodge at Chaa Creek is a multi award winning eco resort set within a 365-acre private nature reserve along the banks of the Macal River in Belize.
ENDS