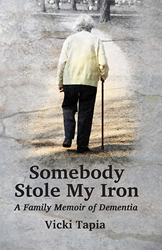 The goal is to offer hope to those whose lives have been intimately affected by dementia, letting them know that they are not alone.
Amarillo, Texas (PRWEB) November 25, 2015
In the memoir, Somebody Stole My Iron, published by Praeclarus Press, Vicki Tapia shares her family's journey with dementia. Tapia offers her personal experiences, resources for coping, and support to others in the same situation. Her work resonates with a population of Americans who are becoming increasingly dependent on caregivers, as well as the caregivers themselves.
Somebody Stole My Iron has been recognized and acclaimed since it debut. In 2015 it was recognized by The Billings Public Library Board as a High Plains Book Awards Finalist. Additionally, Tapia was previously invited in her hometown of Billings, Montana to discuss dementia awareness and her personal experience as related in her book. Connecting with readers allowed her share how to increase dementia awareness--recognizing the difference between normal aging and signs of dementia though interweaving stories of how her family missed the signs of dementia in her parents. Tapia also discussed why early diagnosis is important and key to helping patients live better day-to-day lives with this disease.
To learn more about Tapia's memoir visit the website, Somebody Stole My Iron. Through the end of November, please enjoy a discounted price on the Kindle e-book version through Amazon.com.
Vicki Tapia, a breastfeeding educator for over 30 years, found her energies redirected towards the other end of life when both her parents were diagnosed with dementia. She recently retired from the pediatric clinic where she has worked since 1989 to focus on writing and other as-yet undiscovered adventures. The mother of three grown children, and four grandchildren, she lives with her husband and Mini-Schnauzer in south central Montana.
Praeclarus Press is a small press that specializes in women's health founded by health psychologist Kathleen Kendall-Tackett, PhD, IBCLC, FAPA. It features books, webinars, and products that support women's health throughout their lifespan. Based in Amarillo, Texas, the mission of Praeclarus Press is to produce materials that change women's lives.