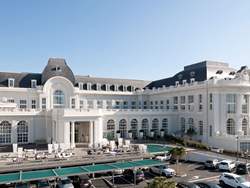 The upgrade is based on a quality service, a simple interface with a rich supply of on-demand content, providing guests with an experience steeped in historic luxury with modern comfort.
Theale, United Kingdon (PRWEB UK) 23 November 2015
Quadriga, a leading international provider of Internet and entertainment managed services for the hospitality industry, install 103 rooms with their in-room TV and WiFi systems to provide guests with an experience steeped in historic luxury with modern comfort.
Les Cures Marines, Thalassa Sea & Spa Hotel contacted Quadriga to assist with a technology package as prestigious as the property. Each room was equipped with a large Philips LED screen and Quadriga's Sensiq guest entertainment TV platform, fully designed to blend into the atmosphere of the hotel, whilst offering an exceptional variety of video and audio content, useful widgets such as latest news and weather and all the resort's information.
The in-room screen becomes the ideal, personalised communication hub, particularly for the resort's spa products and locally supported restaurants. The internet connection provided was the solution QConnect from Quadriga, which provides free Wi Fi coverage throughout the hotel. This allows a guest who connects in room to retain a connection throughout their stay, from the bar overlooking the sea, on the terrace or even at the thalassotherapy institute.
Emile Viciana, General Manager of the hotel comments, "With Les Cures Marines we are able to renew a hotel with a prestigious past but we had to integrate the modern technological services and make all communication and entertainment means used for daily work or leisure available to our customers. We are delighted to have selected Quadriga as our main technical contact to accompany us in this process.
Quadriga has led the networks on one side, the communication platform in rooms and Wi-Fi offer on the other, with fully customised interfaces respecting the spirit of Les Cures Marines. All of this is perfectly in line with the customer experience we are continuing to build every day with the MGallery brand."
Jean-François Fontaine-Boullé, Global Accounts Director at Quadriga adds, "We are delighted to have completed this project with Mr Viciana's teams from whom we appreciated the availability and enthusiasm. We were able to work with each department; technical, room division and marketing very constructively, to shape the best customer experience desired by the hotel.
This experience is based on a quality service, constantly respecting the identity aspects of the property, a simple interface, a rich supply of on-demand content refreshed monthly and the opportunity for the hotel to enhance its various points of sale."
The Hotel des Cures Marine Trouville beautifully enriches our partnership with Collection MGallery. To date Quadriga is also the technology partner for Le Royal in Lyon, Molitor in Paris and most recently The Rotary in Geneva.
==ENDS==
About MGallery
MGallery by Sofitel, charming boutique hotels, inspiring & singular
MGallery by Sofitel is an intimate collection of 75 boutique hotels. Charming and genuine hotels with their own thoughtful stories, MGallery by Sofitel has that 'je ne sais quoi' that goes hand-in-hand with French 'art de recevoir'. MGallery by Sofitel appeals to engaged explorers who are clued in to travel and seek out the unbeaten path, fuelled by passion, curiosity and an interest in the world around them. Each hotel in the collection is noted for its unique personality, cocooning facilities and inviting local flavour, in more than 20 countries including France, Italy, Morocco, Argentina, Vietnam, Indonesia and Australia.
Sofitel, authentic luxury hotels with a French soul, is the elegant answer to a luxury traveller's quest for the good things in life.
mgallery.com | sofitel.com | accorhotels.com
About Quadriga
Quadriga is a leading international provider of guest technology managed services for the hospitality industry and our commitment is to maximise a customers' on-property value and guest satisfaction. Quadriga provides customers with the flexibility and reassurance that they can obtain a complete, accessible and relevant guest technology solution that meets their business revenue, guest satisfaction and operational efficiency targets, all from a single, financially robust partner. Our value proposition is to provide technology solutions which enable customers to:

Connect with your guests – and guests with the hotel and their world
Control the guest experience and your network and TV environment
Commercialise new business and revenue opportunities
This value is delivered via a 360º integrated and managed service approach to design, build and manage a complete network and technology ecosystem focussed on the needs of hospitality and guests.
Quadriga offers a single point of contact for a range of managed services covering Networks, WiFi, Hospitality TVs, Interactive TV & Mobile platforms and Financial Services. These integrate multiple hardware and software components, proprietary to Quadriga or via 'best-in-class' partners, with an unrivalled range of multimedia content solutions and expert operational and professional services.
Quadriga has more than 30 years' experience serving the hospitality sector and operates in the key strategic geographies of USA, Europe, Middle East and Africa, supporting more than 300,000 guest rooms including 100,000 with HSIA. The company has unrivalled knowledge and approaching 15 years' experience in managing hotel networks, Internet provision, digital IP systems and delivering IP over coax networks. Quadriga will continue to leverage its capabilities, its partnerships and deep knowledge of the hospitality sector to create solutions that harness the latest technologies and meet ever- evolving customer business needs and guest expectations.
For more information, please visit http://www.quadriga.com
Press Contact
Vicky Daniels
Group Marketing Manager
Quadriga Worldwide Ltd
Telephone: +44 (0) 118 916 7181
E-mail: Vicky(dot)Daniels(at)quadriga(dot)com
Rory Flashman
Account Director
Spa Communications for Quadriga Worldwide Ltd.
Telephone: +44 (0) 1892 511413
E-mail: rflashman(at)spacomms(dot)com