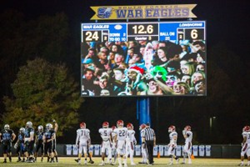 "This project is far more than just a LED scoreboard for athletics. The video screen can serve audiences for other large school events and functions." - Jock Gibb, VP Sales for Formetco
Cumming, GA, USA (PRWEB) November 23, 2015
On October 23, 2015 South Forsyth High School unveiled a new sports and entertainment video display system. The new Formetco LED video display system replaces an older electronic scoreboard, and provides a multitude of new features that support a variety of school events.
About the LED video display screen
The new display measures 22'-5" x 37-9.5" and provides 833 square feet of video excellence. With 774,144 LED diodes the display is a superb near highest definition display screen. The video screen system includes numerous features ranging from video display with replay and streaming feeds from multiple video cameras to advertising display and complex scoreboard functionality.
Where educational curriculum merges with athletics
The high tech video display provides a major enhancement to the educational experience. The school now has a state-of-the-art video display system that will be managed by students. With this hands-on learning opportunity the school's video production group can now gain knowledge and develop marketable job skills.
Formetco, the video screen manufacturer, is working as a community partner to work with South Forsyth High School to train video production students on how to manage all aspects of the system. Jock Gibb, Formetco's Vice President of Sales, commented, "This project is far more than just a LED scoreboard for athletics. The video screen can serve audiences for other large school events and functions. It was a great feeling to witness the standing ovation by the crowd when the display was unveiled."
Partnering to improve the educational environment
South Forsyth High School provides an exceptional educational experience, and is continually in pursuit of improving its educational environment. The South Forsyth Touchdown Club developed a three phase plan for developing the athletics complex. Among the many items listed in the plan was a new LED scoreboard and with video display capabilities. The new LED video scoreboard was funded by a gracious private donor who is an avid supporter of War Eagles' programs.
The three phase development plan identified goals of building a legacy of driving momentum in ways that positively impact the local community, and specifically helps students. Joe Outlaw, a Touchdown Club Volunteer Parent, remarked, "Formetco was the selected supplier because the company has an established reputation for quality, and has considerable experience in creating LED video scoreboards. Their scoreboard design capabilities are exceptional, and will serve the school very well for many years".
About South Forsyth High School
South Forsyth High School is located in Cumming, Georgia, and is part of the Forsyth County Public School System. The school strives to provide a world-class education for all its students, balancing rigorous academics with excellence in athletics and fine arts, ultimately leading students to their highest level of success after graduation.