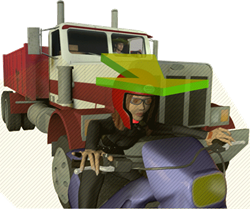 Researchers found that limited field of view can increase the risk of death or injury among passenger vehicle occupants, pedestrians, bicyclists, and motorcyclists when drivers of tractor-trailers change lanes, make turns, go straight, or back up.
Portland, Oregon (PRWEB) November 25, 2015
Portland car accident attorney Michael Colbach says that even as automobile travel has never been safer, pedestrian and bicyclist injuries and deaths are on the rise. "Some of these deaths are certainly preventable. Trucks are dangerous by design and have massive blind spots, which we know well about; we also know that mandatory truck side guards would save lives."
Colbach says that the approach to improving truck safety has been piecemeal and there are huge problems which transportation safety researchers are well aware of. In 2014 the National Transportation Safety Board (NTSB) issued safety recommendations for big trucks and semi tractor-trailers.
Colbach says that the NTSB Safety Recommendations in April 2014 identified actionable safety improvements for semi tractor-trailers and single unit trucks. The blind spot on the right side of the tractor-trailer is of particular concern because it impinges on a large portion of the driver's field of view and is disproportionately involved in collisions involving pedestrians, cyclists, and passenger vehicles. Pedestrians, cyclists, and motorcyclists are smaller than passenger vehicles and thus are harder to detect by drivers of tractor-trailers. We know from a 1993 review of fatal large truck/pedestrian collisions in four cities found that the design of truck cabs obstructed the vision of drivers of large trucks and contributed to intersection collisions with pedestrians.
Bicycle rider fatalities have been increasing in recent years according to the latest data we have from National Research Data. In 2013 743 cyclist deaths in accounted for 2.35 percent of all traffic fatalities nationally during the year.
According to the NHTSA traffic safety facts, in 2013 3,964 people were killed in crashes involving large trucks. That includes 78 bicyclists and 338 pedestrians, or 2 and 8.5 percent respectively of all fatalities. Yet, in 2013, large trucks accounted for only 4 percent of all registered vehicles and 9 percent of the total vehicle miles traveled yet large trucks accounted for 9 percent of all vehicles involved in fatal crashes and 3 percent of all vehicles involved in injury and property-damage-only crashes.
Colbach says that a range of reforms are possible and making improvements is very doable. "Safety improvements to big trucks and tractor-trailers would save lives of vulnerable road users like pedestrians, bicycle riders and motorcycle riders, and they would also save lives of passenger vehicle drivers and occupants."