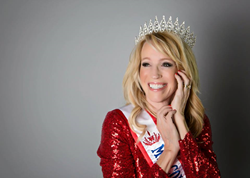 "Domestic violence is not black and white. Each person has a different dynamic that makes their particular situation unique."
Denver, CO (PRWEB) November 23, 2015
In a win for domestic survivors everywhere, and after surviving more than 18 years of domestic violence herself, Sandy Chrisman, Ms. Colorado Woman of Achievement 2015, has a new title: Mrs. Elite Woman of Achievement 2016. Chrisman will serve as the launch spokesperson and Ambassador for the Woman of Achievement Organization reaching out to married women throughout the nation. A respected speaker on anti-bullying, resources for women in crisis and identifying domestic violence relationship "markers," Chrisman will spend much of 2016 traveling throughout Colorado and neighboring states to speak at local high schools and women's organizations on this issue.
"I started my non-profit organization "First Steps Outreach" in 2013 to assist women who are in crisis mode when domestic shelters are full. Our goal to provide 3-days of emergency interim housing, counseling and other needed resources." In her talks to local high schools she often addresses the classic school bully: "Isn't it possible that we, as adults, could be responsible for the bullies in our communities? If our children are not held accountable, they may grow up to be domestic violence abusers. A bully may turn into an abuser twenty years down the road." While she acknowledges many factors contribute to a marital collapse and even potential violence, in interviewing domestic violence lawyers and other providers, the problem can often be traced back to an issue of control. Chrisman stated: "There should never be a lower class citizen in a marriage. Just because one person works and the other person cares for the home doesn't make that marriage unequal or one person '"less than." Love and finances can work beautifully together, but control issues will create division and marital death."
The annual Woman of Achievement Pageant and Awards Show took place on November 15, 2015 at the Queen Mary in Long Beach, CA. The annual competition is based on: Personal Interview, Community Service Project, Creative Expression in Speech or Performance, Fitness and Formal Wear. Corporate sponsors of Woman of Achievement grants have included: Union Bank-Century City, Professional Women United, The Cure, and ECOS (Earth Friendly Products). Sandy Chrisman may be reached at: http://www.firststepsoutreach.com