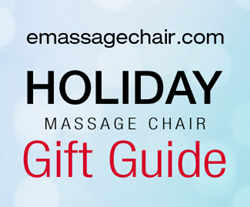 "Massage chairs relieve pain, promote relaxation, and reduce stress…buying a massage chair should be pain free!"
Las Vegas, NV (PRWEB) November 23, 2015
On the hunt for the best massage chair this year? Be sure to check out the helpful tips and new 2015 holiday gift guide and top 10 list released by Emassagechair.com. With the holidays approaching, there is no better time to find great pricing on the massage chair that customers have been eyeing all year. Whether it's a gift for a family member or a healing retreat for the house, now is the time to find the absolute best massage chairs at the best value.
A great resource for finding the best massage chair is their newly released Top 10 Massage Chairs List of 2015. Here customers will find massage chairs as rated by customers and the massage chair experts. Their best-selling Ogawa Active SuperTrac has made the list, see the rest here: Top Ten Massage Chairs.
For those looking for the best gift on the block, use their 2015 Gift Guide that highlights some of the best massage chair values and coolest gadgets. The gift of healing never fails, see their guide here: 2015 Massage Chair Gift Guide.
With so many brands, models, and various features to choose from, purchasing a massage chair can seem daunting at first look. Having a choice is never a bad thing but how will a customer know that they have made the right choice for themselves? Here are a few tips on bringing home the right chair:
1. Write a list of must have features. If it's Deep Tissue, Zero Gravity, Heat, or Foot Rollers, having a clear picture of what the chair needs to accomplish will help to narrow the search.
2. Think pricing…Is there a budget? Using tools on Emassagechair.com's site that sort by price can really help cut through and pinpoint the right massage chair.
3. Who will use the chair? Making sure to consider the users of the chair will help decide the style of chair. Some chairs offer depth adjustment or various program choices that will appeal to the whole family.
4. Ask a massage chair expert. If the chairs are all looking alike or there is no clear choice in sight, call in to get guidance. Like teachers always say, there is never a bad question! It pays to ask before buying to save time and money.
5. Read up. The Massage Chair Experts at Emassagechair.com have sat in and analyzed all of the best chairs available. Check out their Massage Chair Reviews, Customer Testimonials, or even watch a Video. Choosing a chair can be easy!
"We have always done our very best to provide our customers with the inside scoop on all of the best massage chairs available. Our goal is to make choosing the perfect massage chair as easy as possible. Massage chairs relieve pain, promote relaxation, and reduce stress…buying a massage chair should be pain free!", says Heather of Emassagechair.com.
The Massage Chair Experts at Emassagechair.com are dedicated to providing the best in customer service and high quality massage chairs at the lowest prices. They take pride in using their massage chair knowledge to help their customers to find the perfect massage chair.
For more information contact Emassagechair.com by calling 888.360.9996 or support(at)emassagechair(dot)com.
Emassagechair.com®
7582 Las Vegas Blvd. S.
Suite #429
Las Vegas, NV 89123-1060
888.360.9996