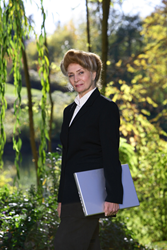 Grants Pass, OR (PRWEB) November 23, 2015
Public health in the United States is suffering from an epidemic of "entitlement." As a result, patients often demand that their doctors instantly cure every illness and discomfort – even when the illness is self-induced as a result of poor lifestyle choices. That was the message of wellness doctor and author Patricia Sulak, M.D., speaking on a recent Sharon Kleyne Hour® Power of Water® radio show. The "cure," according to Sulak, is for each individual to take personal responsibility for their own health long before illness or disease develops.
Kleyne and Sulak discussed wellness, lifestyle choices, personal responsibility, integrative and alternative medicine, and Water Life Science® on her Sharon Kleyne Hour® Power of Water® radio show of Nov. 16, 2015. For a podcast, go to http://www.SharonKleyneHour.com.
The globally syndicated, education oriented radio show is heard weekly on VoiceAmerica (Health and Wellness, and Variety Channels) and Apple iTunes. The show is sponsored by Bio-Logic Aqua® Research Water Life Science®, founded by Kleyne and specializing in fresh water, the atmosphere, body surface evaporation and dehydration. The Research Center's signature product for dry winter skin is Nature's Mist® Face of the Water®.
Patricia Sulak, M.D., is a gynecologist in Temple, Texas. She is founder and director of "LivingWELL Aware" (http://www.livingwellaware.com/) and a lecturer on wellness and lifestyle. Sulak is author of "Should I Fire My doctor?" (Next Century Publications, 2014).
Sulak does not advocate avoiding doctors. Her message, she explains to Kleyne, is that most illness in the U.S. is self induced as a result of lifestyle choices, and could have been prevented. She blames the problem on a prevailing attitude of entitlement in the U.S. population. Too many people demand that the government – or their doctors – do everything for them, including curing every illness, making sure they have money and fixing them when they are unhappy or uncomfortable.
If a doctor can't product an instant cure, says Sulak, preferably with prescriptions, the patient will likely go another doctor. And if a doctor suggests that a patient drink more water, change their diet or get more exercise, the patient probably won't comply and may get offended.
In taking responsibility for one's own health, the doctor becomes not purveyor of instant cures but a paid consultant. Since everyone is different, any doctor's advice should be filtered though what one knows about their own body. "You are not firing your doctor," says Sulak, "you are hiring yourself."
Kleyne brought up several health related topics and asked Sulak to comment:
Alternative medicine. A proactive approach to health, Sulak and Kleyne agree, encourages alternative, integrative and self-help medicine. Many M.D.'s are happy to recommend alternative practitioners. Sulak observed that wellness courses were not available when she attended medical school.
Water. Water is the basis for life, health and wellness. Kleyne and Sulak recommend eight glasses a day and also recommend improved education on the symptoms of dehydration and the many environmental and dietary factors that can cause dehydration.
Diet. Diet is fundamental to health and the risk of stroke, flu, Alzheimers and many other diseases can be reduced through diet and weight control. Sulak recommends a Mediterranean Diet, high in fruits, vegetables and nuts and low in red meat and dairy. She supports vegan diets but notes that some bodies have difficulty adjusting to it.
Breathing. Meditation, mindfulness and correct breathing, says Kleyne, are essential to health and happiness but frequently overlooked.
Sleep. Kleyne noted that the body rejuvenates itself during sleep but that due to stress and other factors, many people these days do not sleep well.
Medication. We are far too dependent on prescription medication and "instant cures," says Sulak. Kleyne noted that a high percentage of medications are dehydrating to the body.
Uniqueness. It's important to know one's own body, Sulak reiterates. It is also important to learn to cope with conflicts and upsets, to forgive one's self and others and to be happy with one's self.
©2015 Bio-Logic Aqua® Research Water Life Science®. All rights reserved.