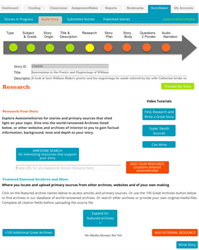 "AwesomeStories is a great way to build standards-based curriculum -- as engaging as a story and as authentic as the real primary sources!-- Vickie Burkins, SC Middle School Teacher
GRAND RAPIDS, MI. (PRWEB) November 24, 2015
AwesomeStories, the leader in story-driven, evidence-based research, reading and writing, announces its "Localize Learning" campaign and collection. Students and teachers use AwesomeStories MakerSpace for the Humanities to build their stories, articles, lessons and curricula. MakerSpace for the Humanities is AwesomeStories' suite of free story-driven, evidence-rich archive of over 100,000 primary sources together with premium apps, StoryMaker and AssignmentMaker.
Hawaii takes the lead with a classroom of Hawaiian history stories by 4th graders published in multi-media glory and a coming-of-age story set in the tumult of 19th-century Hawaii.
Fourth graders created stories and uploaded primary sources, and some of the students recorded audio narrations. All their work is published in "Hawaii – Straight from the Islands". Students explore issues from "The Ancient Hawaiians' Sustainable Ways" to "The Overthrow Of Hawaii."
In "Lehua, Ka'ao a ka Wahine: A Hawaiian Noble Woman Comes of Age", Gene Parola, retired professor of cultural history, provides the background of Hawaiian royalty and coming-of-age issues raised in his book of the same name. This AwesomeStories introduction to Parola's book is helpful to youths from all over the world-- placing the social/political changes in relation to the transition to adult in fascinating Hawaii. The full book is available in Kindle and print versions from author Gene Parola's website.
South Carolina teacher Vickie Burkins has created a story-driven first semester of "South Carolina History", writing chapters and providing primary-source links to meet the 8th grade South Carolina Social Studies standards. South Carolina teachers are invited to contribute and to use this resource.
Students explore stories in the AwesomeStories archive, learning how primary-source videos, audios, images and original documents can enrich a non-fiction and even a fiction story. Students then use the StoryMaker app to research their story, accessing the AwesomeStories archive and over 100 linked world-renowned archives.
As the students research and write, they use video and graphical tutorial aids and are supported by pop-ups that guide them to cite sources properly. When students complete and submit their story to their teacher, the teacher can request revisions, share with the class, and can publish on the AwesomeStories website. Students see their stories rendered beautifully online, complete with MLA citations. They create great works that are valuable portfolio additions, teach subject matter, develop research-and-writing skills, deepen reading skills and give students pride-of-accomplishment in multimedia publishing.
Teachers know that students love to learn from stories and from authentic primary sources. They develop lessons, make assignments, grade, review student usage of resources and provide an entire year's curriculum online. Savings in book costs, and convenience in linking assignments to references, can be achieved. AwesomeStories is an IMS member and provides LTI tools to enable single sign-on to learning management systems (LMS), making it easy for teachers to use AwesomeStories.
Teachers and students are invited to sign up for a free trial and to enter the ongoing Contest with their "Localize Learning" stories. When a teacher signs up for a classroom (Gold) membership, up to 30 of his/her students also gain premium membership. Just sign up, explore, write a story and submit for a chance to win an iPad, a Chromebook or free annual membership. Winners will be announced at the end of December.
ABOUT AWESOMESTORIES: MakerSpace for the Humanities includes AwesomeStories Free Archive of 4,000+ fascinating stories linked to 100,000+ primary sources spanning subjects and levels to learners around the world and its new apps— StoryMaker and AssignmentMaker. AwesomeStories.com has over 3 million users per year and 35,000 members. Teachers, media specialists and students rave about AwesomeStories. Recent accolades include 2015 CODIE Finalist as a Social Studies Solution.