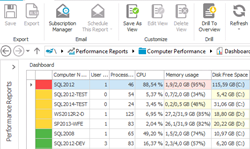 Creation of SysKit 2016 brings new promise and a new mission to restore stability to a chaotic server environment world.
(PRWEB) December 07, 2015
Acceleratio Ltd., an innovative software development company, released an ultimate system admin toolkit – SysKit 2016. It's one of the biggest ever Acceleratio releases, because the company decided to bring all of its great server monitoring products and their features together into one tool - SysKit.
SysKit allows monitoring of Windows-based infrastructure, including Windows Servers, Remote Desktop Services, Citrix XenApp/XenDesktop servers, RD Gateway, workstations, etc. It enables administrators track users' logon activities, monitor actions done on files, get information about blocked IPs and network traffic, track important hardware and software assets, and much, much more.
LIVE MONITORING OF SERVER PERFORMANCE
SysKit provides monitoring of server performance in real time and review of all users and processes running on servers, gateways, and workstations. SysKit's system dashboard displays all the important server performance metrics, such as CPU and memory usage and disk performance, and pinpoints potentially critical states for each of them. Monitoring and reporting are also available anywhere and anytime via a web app. It's ideal solution for busy managers or chief information officers who travels a lot.
REAL-TIME ALERTING
SysKit provides intelligent alerting, which can help to troubleshoot important issues faster. It can send alerts for key performance counters, sessions, and services, and as well, it can classify the importance of these alerts.
For a preview of this tool and all its great features, download the free trial, which is functional for 30 days.
SysKit is available as a single full-feature edition. Different license packs can be bought for servers, workstations, or RD Gateway. It's possible to choose between the available packs or request a custom quote.
Don't compromise when it comes to server monitoring. SysKit has it all!
ABOUT ACCELERATIO Ltd.
Acceleratio Ltd. is a software development company. It was founded in 2008 and is based in Zagreb, Croatia, Europe, and Ronkonkoma, New York, U.S. The company specializes in developing high-quality enterprise applications and provides consulting for Microsoft SharePoint, Microsoft Remote Desktop Services, and Citrix technology. We are proud that our products are used by many organizations worldwide on thousands of servers. Our goal is to ease life for SharePoint, Office 365, Remote Desktop Services, and Citrix admins across the globe while decreasing the total cost of ownership and improving performance through our innovative software.