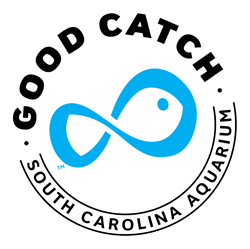 Charleston, S.C. (PRWEB) November 23, 2015
Lowcountry food and fine dining is on tap at the next South Carolina Aquarium Good Catch Dinner, taking place at High Cotton, Tuesday, Dec.1, at 6:30 p.m. The four-course dinner embraces the essence of Fall, featuring sustainable seafood, regionally sourced ingredients and wine pairings. Guests are encouraged to arrive early to experience a special wine reception which begins at 5:30 p.m.
Offerings include:

Oyster Trio including on the half shell, Rockefeller, and crispy fried
Grilled King Mackerel with spinach and clam, and artichoke broth
Prosciutto wrapped swordfish with cauliflower gratin, Brussels sprouts, and marinated beets
Ginger pumpkin tart with pecan caramel and bourbon mascarpone
Diners are sure to enjoy Executive Chef Shawn Kelly's culinary creativity which shines through in his carefully crafted dishes which feature the freshest seafood and regional ingredients. High Cotton's stylish dining rooms featuring heart of pine floors and antique brick create one of the best dining experiences in Charleston.
South Carolina Aquarium Good Catch Manager Shelley Dearhart will be in attendance to educate guests about Good Catch and ways to make sustainable seafood choices when dining out and at home. The dinner begins at 6:30 p.m., and tickets are $75 plus tax and gratuity and include wine pairings. Seating is limited, and reservations are required. Call (843) 722-4220 to make your reservation. A portion of proceeds benefit Good Catch at the South Carolina Aquarium.
Fast Facts:

The Good Catch dinner takes place Tuesday, Dec. 1, 5:30 p.m. wine reception, 6:30 p.m. dinner
High Cotton is located at 19 East Bay Street in Charleston
Tickets, which include wine pairings, are $75 per person plus tax and gratuity
A portion of proceeds benefit Good Catch at the South Carolina Aquarium
Seating is limited, so call (843) 724-3815 to make a reservation
For all media inquiries, please contact Kate Dittloff at (843) 579-8660 or kdittloff(at)scaquarium(dot)org.
About South Carolina Aquarium Good Catch:
Good Catch generates awareness and leads communities in support of healthy fisheries and consumption of responsibly harvested seafood. The program pragmatically balances the health of the environment with South Carolina's demand for seafood by working with consumers and chefs, helping them make wise seafood choices to support healthy, abundant oceans. More than 115 restaurant partners have committed to serve and purchase sustainable seafood whenever possible and to avoid species that are immediately vulnerable to extinction. As a community, when we choose seafood from local, sustainably managed fisheries or dine at restaurants which do the same, we minimize our impact on the environment. Find the most up-to-date Good Catch partner list and more information on making good seafood choices each season at scaquarium.org/goodcatch.
About High Cotton:
Located on Charleston's historic East Bay street, High Cotton embraces the essence of Charleston hospitality. Owned by the Hall Family, the restaurant features fresh seafood, regional ingredients, and superior dishes, service, and an atmosphere that will entice guests to stay, enjoy, and come back time and again. For more information visit highcottoncharleston.com or call (843) 724-3815.
About the South Carolina Aquarium:
The South Carolina Aquarium features thousands of amazing aquatic animals from river otters and sharks to loggerhead turtles in more than 60 exhibits representing the rich biodiversity of South Carolina from the mountains to the sea. Dedicated to promoting education and conservation, the Aquarium also presents fabulous views of the Charleston Harbor and interactive exhibits and programs for visitors of all ages.
The South Carolina Aquarium is a 501(c)(3) not-for-profit organization and is open daily from 9 a.m. to 5 p.m. The Aquarium is closed Thanksgiving Day, half day Dec. 24 (open 9 a.m. to 1 p.m.) and Dec. 25. Admission prices are: Toddlers (2 and under) free; Youth (3-12) $17.95; Adults (13+) $24.95. The Aquarium plus the 4-D Theater experience is free for Toddlers, $22.95 for Children, $29.95 for Adults. The 4-D Theater experience only is $6.95 for Children and Adults and free for Members. For more information, call (843) 577-FISH (3474) or visit scaquarium.org.