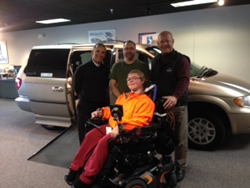 Denver, CO (PRWEB) November 25, 2015
Until a few months ago, James Presley drove his son William (who is in a wheelchair) to school every day in a wheelchair van. William has Duchenne Muscular Dystrophy and lost the ability to walk when he was 10 years old. Unfortunately, their wheelchair van recently broke down, so James started walking his son to school every day. Needless to say, the 2.5 miles to and from William's high school was a long way to go without transportation.
Performance Mobility was contacted by James and a new relationship was formed! Terry Chleboun, the General Manager at Performance Mobility, was instrumental in helping James and William find a used wheelchair van that was a great fit for their needs. A local TV station also provided a profile of the Presley family which helped raise over $15,000 dollars on their Go Fund Me site. Performance Mobility was able to offer a $10,000 discount towards the van purchase, making it possible for the Preleys to acquire a low mileage, reliable vehicle. Together the community came to help a family in need! William and James took their vehicle home from Performance Mobility the week before Thanksgiving! It was a happy day for everyone involved. Steve Art, the Economic Development Director for the city of Wheat Ridge, also came by to meet this wonderful family the day they took delivery of their wheelchair van.