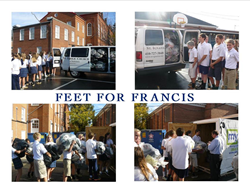 Annapolis, Md. (PRWEB) November 23, 2015
During the months of October and November 2015, MyWay Mobile Storage of Baltimore donated the use of a much needed storage container to store over 1,050 pairs of gently-used shoes to help St. Mary's Elementary School participate in the Archdiocese of Baltimore's shoe drive campaign, "Feet For Francis". The donated MyWay Mobile Storage unit served as a collection point and stored the shoes from St Mary's Elementary school in Annapolis, MD, the Catholic Center and the Catholic Review.
Feet for Francis is a fundraiser sponsored by the Archdiocese of Baltimore and Catholic Review Media in partnership with Funds2Orgs. St. Mary's Elementary School Spirituality Coordinator, Margaret Fischer said, "This outreach project was initiated in honor of the visit of Pope Francis to the United States and to help the people of developing nations, namely: Haiti, Honduras, Tanzania, and Colombia, South America, where the shoes will be sent." The shoes collected become inventory for small business owners, or micro-entrepreneurs, in 26 developing countries. Fischer added, "Thank you MyWay Mobile Storage of Baltimore, for helping this local school make a difference by teaching its students to respond to the needs of the global community."
About MyWay Mobile Storage
MyWay Mobile Storage is the leading provider of moving and storage solutions. They provide quick and easy do it yourself moving containers that can be delivered right to your door and stored in their climate controlled, secure storage facilities. To learn more visit http://www.mywaystorage.com or call (888) 336-9929 to speak with a Moving & Storage Consultant.
Contact:
Steve Hudson
Operations Manager
240-988-6728
hudsons(at)mywaystorage.com