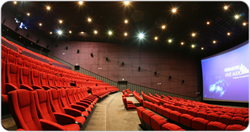 We have always been very impressed with Christie's constant technological and groundbreaking advancements in digital cinema
TAIPEI, Taiwan (PRWEB) November 23, 2015
Christie®, a global leader in advanced entertainment technologies, is proud to announce that LUX CINEMA, one of the most established and symbolic movie theaters in Taiwan, has installed Christie Vive Audio™ cinema sound system in its flagship Hall 1 auditorium to provide the best possible cinematic experience for its movie-goers.
Located in the heart of Taipei's most glamorous shopping district of Ximending, the 800-seat Hall 1 features a 19.5-meter screen – one of the biggest in Taiwan – and plush seating for maximum comfort. The Vive Audio system installed has been configured to meet the requirements of the Dolby Surround 7.1 sound technology system. LUX CINEMA is the first movie theater in Taiwan to be equipped with Christie's cutting-edge cinema audio solution which utilizes ribbon driver speakers and Class D amplifiers.
It is the preferred venue for premieres and gala screenings in Taiwan's capital, and is one of the five theaters selected to conduct movie screenings during the prestigious 2015 Taipei Golden Horse Film Festival from November 5-26, where several highly anticipated movies played to sold-out crowds. These included "The Assassin" by acclaimed Taiwanese director Hou Hsiao-Hsien, "Tharlo" by Tibetan filmmaker Pema Tseden, Taiwanese film auteur Tso-chi Chang's "Thanatos, Drunk", Chinese director Zhangke Jia's family drama "Mountains May Depart", and Hong Kong crime thriller "Port of Call" starring Asian superstar Aaron Kwok. "The Assassin" emerged as the biggest winner at the 52nd Golden Horse Awards in Taipei on November 21, grabbing five awards, including best feature film.
Lauded by industry experts for offering truly rich, dynamic and detailed sound, the innovative Christie Vive Audio unlocks the full potential of the DCI digital cinema audio format and is compatible with the leading immersive and surround audio formats in the market. It consists of wall and ceiling surround speakers that use unique ribbon driver technology in a line array design, purpose-built for cinema environments.
The installation at Hall 1 was undertaken by Christie's valued partner, Dacoms Technology Co. Ltd., and comprises Christie Vive Audio speakers of varying combinations. These include LA5 screen channel speakers, LA4S and LA5S speakers for wall surround effects, S215 subwoofers (for full range frequency response), as well as S218 for Low Frequency Effects (subwoofers) channels. The end result is highly immersive cinema sound known for delivering exceptional power and performance.
"We're very pleased to work with Christie to install Taiwan's first Christie Vive Audio system at LUX CINEMA's Hall 1 auditorium to bring the latest and best cinema audio technologies to Taiwanese audiences," said Emily Hong, president, Dacoms Technology. "We have always been very impressed with Christie's constant technological and groundbreaking advancements in digital cinema, and have benefited much working with Christie's technical team during the Vive Audio installation process."
Besides the immersive aural experience brought about by Christie Vive Audio, audiences can enjoy the most brilliant and high resolution visuals offered by two Christie CP4230 4K DLP® Digital Cinema Projectors that are already deployed in the auditorium. The CP4230 projectors are set in a stacked configuration to project a brightness of 68,000 lumens, making it the brightest projection in Taiwan. Combined with the newly installed Vive Audio, LUX CINEMA's Hall 1 has joined a league of "all Christie" cinema halls offering Christie's complete cinema solutions that sets new standards, and delivers superior movie-viewing and cinema sound experience.
"We are amazed by the exceptional sound quality of Christie Vive Audio and are confident that it is the best audio system available today for accurate reproduction of immersive cinema audio formats," commented Wayne Chang, chairman, LUX CINEMA. "We're proud to be the first cinema in Taiwan to install the innovative Christie Vive Audio and the decision to equip this sound system in Hall 1 marks our commitment to bringing an unprecedented audio-visual experience to our loyal movie supporters in Taiwan."
Lin Yu, Vice President, Christie Asia Pacific, added, "We are delighted and honored that LUX CINEMA has chosen Christie Vive Audio to be installed in its iconic theater complex in Taipei, which has been operating since 1968. This is a clear testimony that besides offering advanced visual solutions, we have also set the bar in immersive cinema sound that both cinema owners and movie-goers appreciate. Taiwanese audiences can now look forward to enjoying the depth and outstanding quality of the audio and visuals offered by our complete cinema solutions."
An increasing number of cinema chains around the world have embraced the Christie Vive Audio. Christie recently celebrated the 200th Christie Vive installation at Southern Theatres' Movie Tavern Flourtown 8 in Flourtown, Pennsylvania, while anticipating the sale of its 300th Vive Audio system by the opening of Star Wars® Episode VII: The Force Awakens™ on December 18, 2015. Besides LUX CINEMA, leading cinema exhibitors in Asia are also proud users of the cinema industry's only purpose built line array speaker solution. They include Indonesia's largest movie theater chain, Cinema 21, China's largest movie theater operator, Wanda Cinema Line, and Korea's Lotte Cinema.
About Christie
Christie Digital Systems USA, Inc. is a global visual technologies company and is a wholly-owned subsidiary of Ushio, Inc., Japan. Consistently setting the standards by being the first to market some of the world's most advanced projectors and complete system displays, Christie is recognized as one of the most innovative visual technology companies in the world. From retail displays to Hollywood, mission critical command centers to classrooms and training simulators, Christie display solutions and projectors capture the attention of audiences around the world with dynamic and stunning images. Visit http://www.christiedigital.com.
Follow us:
Twitter.com/christiedigital
Facebook.com/christiedigital
#christiedigital
Christie® is a registered trademark of Christie Digital Systems USA, Inc., registered in the United States of America and certain other countries. Christie Vive Audio™ is a trademark of Christie Digital Systems USA, Inc.
DLP® is a registered trademark of Texas Instruments.
Dolby, Dolby Atmos, and the double-D symbol are registered trademarks of Dolby Laboratories.