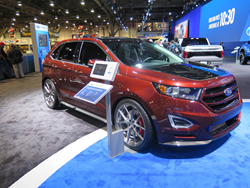 Having the opportunity to work with Ford Motor Company and the industry's most talented aftermarket manufacturers, while incorporating our relationship with Keselowski, was an exciting collaboration. – Dr. Rolf Haag
Fenton, Mich (PRWEB) November 24, 2015
Webasto, one of the largest suppliers of heating, cooling and ventilation systems to the automotive, commercial truck and specialty vehicles markets, took the already dynamic Ford Edge Sport and enhanced the performance, handling and driver experience to create the ultimate in luxury performance. Nicknamed, "Ignition," the Ford Edge Sport by Webasto ignites the driver's adrenaline and truly lets them "feel the drive."
"Having the opportunity to work with Ford Motor Company and the industry's most talented aftermarket manufacturers, while incorporating our relationship with Keselowski, was an exciting collaboration and proved to be the perfect platform to display our innovative products," said Webasto Thermo & Comfort North America President and CEO, Dr. Rolf Haag. "Receiving a Design Award from Ford was really an honor," Haag continued.
Webasto Ford Edge Sport "Ignition"
The 2015 Ford Edge Sport once again redefined the crossover utility vehicle segment. Webasto teamed up with some of the industry's best to raise the bar on the SEMA project vehicle, "Ignition" with its material quality, technology and style.
The exterior of the Webasto Ford Edge was customized with carbon fiber side rockers, front chin spoiler, rear diffuser, engine cover and radiator cover all by Sankuer Composites Technologies. AG Luxury Forged 22" monoblock wheels, Toyo Tires, a one-of-a-kind paint job applied by MRT Performance and Webasto Hollandia 740 Inbuilt Sunroof completed the sophisticated look.
New product development played a large role in the build. Webasto installed a Thermo Top Evo engine pre-heater that brings the engine's fluids up to optimum operating temperature before the engine is even started, reducing engine wear and tear and exhaust emission to prolong the turbocharger life and provide a warm interior. The engine pre-heater can be controlled by any smartphone with Webasto's all-new ThermoCall technology. Alea Leather provided a custom leather kit, MRT installed an Axle Back Exhaust, H&R Springs designed custom lowering springs, Rotora 6-Piston 15" Front Brakes and 4-Piston 13.8" Rear Brakes stood out in a race red finish, and JMS PedalMax and BoostMax tested the boundaries of what the Webasto Ford Edge could do.
Keselowski Gets Behind the Wheel
Webasto enlisted partner and NASCAR Champion, Brad Keselowski, to see what the Webasto Ford Edge Sport was capable of. Keselowski got behind the wheel at Michigan International Speedway during "Stage I" of the build. Known for his aggressive racing style and elite talent, Keselowski tested the boundaries of the vehicle's prototype suspension, exhaust and powertrain modifications, allowing Webasto to make some adjustments and put the finishing touches on the car in preparation for the SEMA Show.
To learn more about the Webasto Ford Edge Sport or Webasto's thermo technology, sunroof products and partnership with Brad Keselowski, visit http://www.genuinewebasto.com. To see the exclusive footage of Keselowski at Michigan International Speedway and what he had to say about "Ignition," visit https://www.youtube.com/watch?v=Wo2auoOTOK8.

About Webasto:
Webasto Group based in Stockdorf near Munich has been a family-owned business ever since the company was founded in 1901. The group operates internationally at over 50 locations (over 30 of these production plants) in the divisions roof and thermo systems. Webasto is one of the top 100 automotive suppliers worldwide. For 2014 the Group realized a sales volume of 2.5 Billion Euros and employs over 10,000 employees. The company´s core competencies encompass the development, production and sales of complete roof and convertible systems as well as heating, cooling and ventilation systems for passenger cars, commercial and special vehicles, recreational vehicles and boats. For more information please visit http://www.webasto-group.com
Corporate Contacts
Webasto Thermo & Comfort North America, Inc.
Amanda Kopczyk
Ph. 810-593-6070
E-Mail: amanda.kopczyk(at)webasto.com