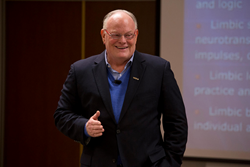 Bob Goshen is creative, enthusiastic and a hard-working man of integrity who delivers even more than – he promises. –Zig Ziglar
Stow, Ohio (PRWEB) November 24, 2015
The National Association of Mortgage Field Services (NAMFS), the oldest and largest association representing mortgage field services providers, has invited Bob Goshen to deliver the keynote speech at the 2016 Annual Conference of Mortgage Field Services. Goshen is a noted speaker and the author of the book The Power of Layered Leadership: How to Discover, Develop, and Duplicate Leaders."
For more than 30 years, Bob Goshen has been a successful business and organizational leader. He has led large organizations with as many as 200,000 employees domestically and internationally. Today, Goshen is focused on leadership development and teaching business owners how to energize employees to achieve greater levels of performance.
Goshen's address to conference attendees is titled, "Finding True North When Everything is Going South". The speech will cover five key points learned from his experiences in business including how to turn lessons learned from failure into the key principles of success. Additionally, Goshen will conduct two breakout sessions based on his book to help attendees learn how instilling a strong leadership culture will increase productivity and profits.
The Annual Conference of Mortgage Field Services, hosted by NAMFS, is open to all professionals in the default mortgage servicing industry. Learn more about NAMFS and the conference at http://www.namfs.org.
About NAMFS
The National Association of Mortgage Field Services, Inc. (NAMFS) is the premier trade association for the mortgage field service industry. We are dedicated to working with all entities of the industry from the Government Agencies and investors that set policy to the contractors and inspectors that perform the work.