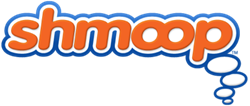 There's a ton of programs out there, but Shmoop is so accessible, so easy, and so much fun.
Mountain View, California (PRWEB) November 24, 2015
It's no secret: Texas likes to do its own thing. Luckily, so does Shmoop.
Shmoop (http://www.shmoop.com), a digital publisher known for its award-winning Test Prep and certified Online Courses, has just released a suite of courses aligned to the Texas Essential Knowledge and Skills (TEKS). With every core ELA and math course from 6th through 12th grade covered, Texas students will be able to hit seven years' worth of standards just using Shmoop...and the national-standards-that-must-not-be-named won't be anywhere in sight.
Of course, sometimes teachers are just stuck on how to tackle one skill and want specific resources for that standard without sifting through seven years of material. That's why Shmoop has an entire section devoted to TEKS, where teachers can find the standard they're looking for and be guided toward every aligned lesson on Shmoop.
And because everything's bigger in Texas, students are also required to take end-of-course (EOC) assessments in ELA, math, science, and social studies. Shmoop offers prep for every single one of 'em—even the optional tests—so that students can strut their stuff...and graduate on time. Then, if students continue on to college, they can use Shmoop's Test Prep to prepare for the Texas Success Initiative (TSI) exam. All that and more can be found on Shmoop's Texas page.
"There's a ton of programs out there, but Shmoop is so accessible, so easy, and so much fun," says Acacia Ameel, Principal of Brownsville Early College High School. "The results have been incredible."
Individual users can subscribe to Shmoop for full access to all resources—Texas-focused and beyond—and Shmoop offers steep discounts to schools and districts via sales(at)shmoop(dot)com.
About Shmoop
Shmoop offers hundreds of thousands of pages of original content. Their Online Courses, Test Prep, Teaching Guides, Learning Guides, and interactive Study Tools are written by teachers and experts and balance a teen-friendly, approachable style with academically rigorous concepts. Shmoop sees 11 million unique visitors a month across desktop and mobile. The company has won numerous awards from EdTech Digest, Tech & Learning, and the Association of Educational Publishers. Launched in 2008, Shmoop makes the magic happen from a labradoodle-patrolled office in Mountain View, California.