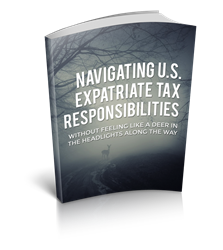 Expatriate tax law is a complicated amalgamation of regulations, rules, and exceptions – which quickly become trap doors for many who are leaving or returning to the United States
Detroit, MI (PRWEB) November 24, 2015
Freeman Tax Law, a tax law firm specializing in overseas banking and foreign bank account reporting, recently released a free eBook for U.S. expatriates who need help with expatriate tax preparation and expat tax compliance. Expatriate tax filing when returning to the United States is often a difficult process, can be very expensive, and can bring heavy penalties if not filed correctly. This book focuses on issues and misconceptions that are harmful to expats, how expat filing differs depending on which foreign country you're filing from, and the nuts and bolts of expatriate tax issues and requirements.
"Expatriate tax law is a complicated amalgamation of regulations, rules, and exceptions – which quickly become trap doors for many who are leaving or returning to the United States," says Jeffrey Freeman, founding partner at Freeman Tax Law, "this eBook will help expats delineate what they do know, don't know and need to understand about expat tax filing."
The eBook, titled "Navigating U.S. Expatriate Tax Responsibilities", is available in Adobe PDF format and can be downloaded from the Freeman Tax Law website at no cost.
Those who need help may submit some details about your expatriate tax filing case, or if you need more information about expatriate tax preparation, foreign bank account reporting services, IRS collections issues, IRS litigation representation, and wealth management please visit freemantaxlaw.com.
About Freeman Tax Law:
Freeman Tax Law is an experienced international tax law firm with special focuses in analyzing and complex expatriate tax duties, wealth management problems, IRS collections issues, and overseas bank account reporting. Through meticulous planning, negotiation, and litigation, Freeman Tax Law has an extensive track record of meeting or exceeding expected outcomes for their clients, and utilize a team-based strategy to cases through a multi-disciplinary defense team. Freeman Tax Law is based in Metro Detroit, MI with offices all over the world.