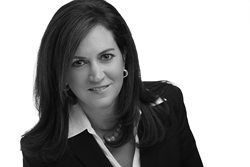 Washington, DC (PRWEB) November 24, 2015
TTR Sotheby's International Realty is proud to announce that Christina Mattar has joined the firm as an Associate in the Chevy Chase Brokerage.
Christina is a native of Washington and passionate about real estate. As a licensed Realtor since 2003 and the daughter of a life-long Realtor, Christina's real estate experience runs deep. She has a keen knowledge of Washington area neighborhoods and stays current on dynamic market trends.
Prior to entering the real estate brokerage business, Christina served in a number of public policy roles, most recently as a Partner at The Ferguson Group, a lobbying firm serving local governments around the country. Christina's career started with a stint interning in the Clinton White House. She then worked for a Senate Committee and Member of Congress. Christina earned an MS from Johns Hopkins University and a BS from Vanderbilt University.
"Christina represents the next generation of real estate brokerage in Washington which requires experience, relationships, and the willingness embrace the latest technology and marketing to clients all over the world. We are delighted to welcome her to the Sotheby's International Realty Family, and we look forward to great things ahead," said Mark Lowham, Managing Partner of the firm.
TTR Sotheby's International Realty's Georgetown brokerage is located at 1206 30th Street, NW Washington, DC 20007. TTR Sotheby's International Realty operates five offices in Washington, DC, Maryland and Virginia. As the exclusive affiliate of Sotheby's International Realty in the Washington region, property listings of TTR Sotheby's International Realty are distributed worldwide on the sothebysrealty.com global website, as well as on the firm's local website, http://www.ttrsir.com. For additional information, please contact Jeanne Choi, VP of Marketing and Communications. The Sotheby's International Realty network currently has more than 17,400 sales associates located in approximately 800 offices in 61 countries and territories worldwide.