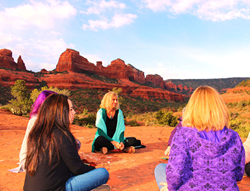 SpiritQuest Sedona Retreats offers new programs and a fresh new website.
Sedona, Arizona (PRWEB) November 23, 2015
SpiritQuest Sedona Retreats, located in Arizona, just revamped its website with a modern design and new helpful content. All original retreats are explained, with information on new offerings such as the men's private retreat, Sedona vortex retreat, and additional group retreats. Viewers can learn about the personal and group retreats, including the group retreat calendar. Day packages and phone sessions are also outlined. There are blogs, videos, photos, testimonials, business owner biography and mission, lodging recommendations, as well as a contact form. People interested in participating in a SpiritQuest Retreat are encouraged to explore the website then call 928-282-2509 for scheduling.
SpiritQuest's new Men's Retreats are customized to meet the needs of men with a focus on self-discovery, transformation and personal growth. Participants will experience one-on-one sessions such asA accessing the Divine Masculine, Breaking Old Patterns, Cord Cutting, and Earth Medicine Wisdom to evolve as a man. This personal retreat helps clients rediscover their purpose and create a new life journey direction. This retreat can be scheduled any time during the year.
The Sedona Vortex Retreats are retreats for spiritual growth and vibrant wellness, encouraging participants to explore their own divinity with a metaphysical focus – finding their own spirituality. This new age retreat includes outdoor sessions such as the Sedona Vortex Experience and Vortex Heart Awakening – harnessing the wisdom and energy of the land in Sedona. The Chakra Balancing, DNA Light Body Activation, and Crystal Grid Reading are sure to open our clients' intuitive and spiritual natures. The private customized Sedona vortex retreat is also available any time during the year.
SpiritQuest has also increased the number and type of Group Retreats offered. New group retreats include: Releasing the Past and Moving Forward (Healing), Awakening Your Sacred Voice (Wellness), Earth and Animal Wisdom (Shamanic), Soulmonic Sounds for Shamanic Journey (Sound), Metaphysical Properties and History (Crystals), and Sacred Geometry and Gridwork (Crystals). The next and final Group Retreat of 2015 will be December 4-6, 2015 Releasing the Past and Moving Forward. There are 19 total Group Retreats offered in 2016. January Retreats are as follows: January 8-10, 2016 Metaphysical Properties and History (Crystals), January 22-24, 2016 Releasing the Past and Moving Forward, and January 29-31, 2016 Accessing the Divine Feminine (Women's Group Retreat).
Spiritual and Healing private customized retreats are always popular and available year-round. The private Spiritual Retreats are a non-sectarian self-awareness experience helping participants to reconnect, find peace, joy, serenity and purpose. Participants may feel they have lost their connection to Spirit, or simply feel out of touch with themselves, depressed or empty. This personal-growth retreat includes sessions such as Spiritual Awakening, Vortex Experience, Breaking Old Belief Patterns, and Third Eye Expansion. The personal customized spiritual retreat is ideal for those wanting to deepen their spiritual life and connection.
The private Healing Retreats are often requested due to the holistic mind, body and spiritual approach for personal transformation and self-development. The healing retreat is ideal for those suffering from depression, stress, anxiety, grief, or PTSD, as well as people recovering from a recent divorce or break-up, as well as those who feel lost or broken-hearted. Healing techniques such as Reiki, Chakra Balancing, Emotional Clearing and Dreamweaving, Meditation and Yoga may be employed to help participants move through their pain and suffering to gain wisdom in order to move forward with positivity and balance. Both the spiritual and healing private customized retreats may be scheduled any time during the year.