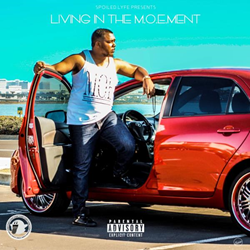 Oakland, CA (PRWEB) November 23, 2015
Today Coast 2 Coast Mixtapes announces the release of "Living In The M.O.Ement", the latest mixtape by Oakland recording artist YaBoiM.O.E. The mixtape is currently available for streaming and download at the Coast 2 Coast Mixtape website.
The mixtape features 16 tracks, including those below:
1. We Them Niggas (feat. K-Soakin)
2. #Hashtag
3. 11:30
4. 9 To 5
5. M.O.E (Money Over Everything)
6. I'll Never
7. OOOOKKKK (feat. K-Soakin)
8. Ready To Ride
9. Spoiled Night
10. Bay Bridge Lyfe (feat. Queen Mahasen)
11. Shhh!
12. Smoke With You
13. I Need You
14. Do It Big (feat. Queen Mahasen)
15. Do It
16. Hate On Me
YaBoiM.O.E s currently seeking press opportunities, interviews, features, and more. He can be reached through his official website.
About YaBoiM.O.E: Mohammed Shuaibe, (born November 17, 1988) is YaBoiM.O.E, an artist, producer, and song writer from Oakland, California. Set on the task to fulfill his dreams of making music; YaBoiM.O.E managed to start writing and producing his own music at the age of fifteen. His brand "SpoiledLyfe" - is defined as a lifestyle of going out and getting whatever you desire, whether that means spoiling yourself or getting spoiled. For more info on YaBoiM.O.E visit his official Facebook fan page.
About Coast 2 Coast Mixtapes:
Coast 2 Coast Mixtapes are the most widely distributed mixtapes in the world, with over 100 million downloads/plays generated by over 300 volumes officially hosted by major artists. Coast 2 Coast has a solid reach in the new music industry with a digital magazine, DJ coalition, industry tips blog, yearly convention, and more. Coast 2 Coast Mixtapes represents a unique opportunity for artists of all urban genres, from major to indie. For more information, visit http://www.coast2coastmixtapes.com.