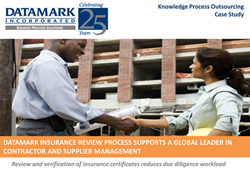 El Paso, Texas (PRWEB) November 26, 2015
Knowledge process outsourcing, or KPO, is highlighted in a new case study published by DATAMARK, Inc., a leading provider of business process solutions, including contact center services.
KPO refers to the outsourcing of business processes requiring high-skill analytics and research.
In this case, a global leader in contractor and supplier management turned to DATAMARK to support a review and verification process for contractors' certificates of insurance. The process is critical for matching hiring companies with contractors and suppliers that meet requirements for safety, insurance, and quality.
DATAMARK's solution included a process analysis and improvement plan developed by its Business Engineering team and a "train-the-trainer" approach to staff education and development in preparation for handling the insurance review process.
To learn more, download the complimentary case study at this link:
About DATAMARK
Celebrating its 25th year in business in 2015, DATAMARK, Inc. is a leading business process outsourcing company specializing in high-volume digital mailroom management, document processing/document management, bilingual (English/Spanish) contact centers and process improvement consulting for Fortune 500 companies and other large enterprises.
Headquartered in El Paso, Texas, DATAMARK employs nearly 2,200 people in its U.S., Mexico and India facilities. For more information, visit http://www.datamark.net. Follow industry news and trends at DATAMARK's Outsourcing Insights blog at http://www.datamark.net/blog.