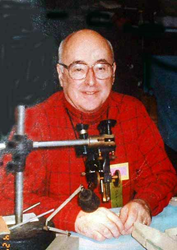 "We're all a product of our ancestors. It's who we are, and if someone writes their history down, it's invaluable." Don Peck
Geneva, IL (PRWEB) November 24, 2015
All her life, Don Peck's mother wondered if she was a descendant of Samuel Fuller, a passenger on the Mayflower. Even her obituary said she might have been. After a 25-year search for information, Don and his aunt discovered that she was not, in fact, related to the Mayflower voyager with whom she shared a last name. Turns out, it was Don's father who was descended from not one, but four passengers on the famed ship to America. A resident of GreenFields senior living community in Geneva and founder of a new family tree program there, Don also discovered that one of those passengers, John Howland, fell overboard and was pulled back to safety and became an instrumental member of the Massachusetts colony. "If my mother knew that it was actually my father who was related to people on the Mayflower, things would have been pretty icy between them!" quipped Don.
These are the stories that make genealogy enthusiasts like Don tick, despite the obstacles that those who dig into their family roots invariably face. "My aunt used to say that genealogy is both infectious and addictive, and she was right!" said Don. "We're all a product of our ancestors. It's who we are, and if someone writes their history down, it's invaluable." According to Don, his main purpose in establishing the family tree group was to help fellow residents break down the "brick walls" that halt the process of finding the parents of an ancestor. "We want to help each other get past these dead ends," said Don.
Meeting once per month, approximately 15 members of Family Tree of GreenFields gather to share their books (family records), family stories, resources and ideas in the search for ancestral links. They also produce a monthly newsletter for fellow residents, offering photos, articles and tips on genealogy. Web-based databases and tools such as ancestry.com make the arduous task of chasing paper trails infinitely easier. "Documents and photos that used to take weeks or months to find now take minutes, and the end result is a book that people can pass on to their children," said the father of three children and three grandchildren and former science teacher, writer and trainer of teachers around the world.
At GreenFields, where Don moved when his late wife developed Alzheimer's disease four years ago, he has gained a large new family of friends. "I have so many more true friends here than I'd have if I'd stayed in my home," said Don. Volunteering that the care his wife received at GreenFields was "absolutely superb," Don also enjoys the broad and varied activities the community offers. "There's something going on here all the time." In addition to genealogy, Don is also a mineralogy aficionado and author of a book on the subject, Mineral Identification: A Guide for Amateur Mineralogists. Like most genealogy buffs, he also keeps a wealth of old books on his shelves.
Perhaps Don's favorite item from the past is a tintype photo of his great-great-great grandmother, Roxana Dickinson (a cousin of poet Emily Dickinson), born in the late 1700s. "I treasure that photo," he said. "Most of us into genealogy have such things that we treasure."
GreenFields is an exceptional LifeCare community offering an ideal location, a wonderful retirement lifestyle. GreenFields offers independent living, assisted living, memory support, rehabilitation and skilled nursing, with the most comprehensive plan available for long-term care if ever needed. For additional information, visit http://www.GreenFieldsOfGeneva.org.