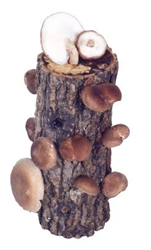 The logs last for years, growing bountiful high-quality, natural shiitakes. A sure winner for people who love mushrooms or love growing things .
Perkins, OK (PRWEB) November 24, 2015
Gardeners, foodies, kids, and mushroom lovers can watch the mystery of mushrooms unfold on a stick of oak, gum, hickory, or cherry wood. The logs are injected, or inoculated, with shiitake spawn (the mushroom seed material) and nurtured at Lost Creek Mushroom Farm until they are ready to grow shiitakes. The logs start "fruiting" naturally in September and are ready for holiday shipping by the end of October.
"The logs really are unique, fun, and funky gifts," according to Sandra Williams, The Mushroom Lady, who with her husband Doug owns and operates the farm. "That they last for years growing bountiful, high-quality, natural mushrooms makes them a sure winner for family and friends who love mushrooms or love growing things."
Doug cuts the logs in winter when the sap is down. The Williams' and their crew drill holes and put spawn into the holes by hand. It takes 8-10 months of watering and careful management for the logs to be ready, to pop out the world's second-most favorite mushroom. The logs will grow organic, gourmet shiitakes about every two months for years, with increasingly larger harvests as they mature. See how they do it here.
Doug selects the logs to be shipped so he knows they will grow mushrooms. He looks for baby mushrooms, called pins, and places where mushrooms have already grown: stems and stem holes.
"At first the logs produce just a few mushrooms, a fourth to a third of a pound. After each harvest the shiitake keeps growing inside the log, replacing the wood with fine, white threads of shiitake mycelia. In the second and third years, the log can be covered top to bottom with mushrooms. By the end of the fourth year, the food supply is tapering off; but the shiitake is still strong and will keep on growing as long as it can."
The logs live inside with plants year 'round and can be set outside in shade in spring and fall.
"Spring and fall are their natural seasons, and they peak around the equinoxes," Doug explained. "The logs produce their biggest, most beautiful and delicious shiitakes when they can grow naturally with equal days and nights and rain."
Logs require regular soaking in non-chlorinated, room temperature water. "Shocking" them with ice water makes the mushrooms grow. Harvest follows 6-10 days later. The logs produce a crop about every two months for 3-5 years.
Kits come in a range of prices from $18 to $90. Each kit includes one or more hardwood logs, instructions, and a recipe booklet. Kits with two logs, such as the Best Buy with two 14" logs and soaking trays shipped to the same address; and the Ma & Pa Kit with two 10" logs, can supply a harvest every month by alternating the producing log. Online website prices include shipping. Logs over 9 inches are fully guaranteed to grow mushrooms.
Lost Creek Mushroom Farm customer service ratings are among the highest on Amazon.com.
"The Best Buy is my favorite," The Mushroom Lady said, "because it saves $10 and you can get lots more mushrooms every month. Or, you can give one as a gift and keep one for yourself."
Janet Bratkovich's Shiitake Sampler Cookbook, with 51 kitchen-tested shiitake recipes, can be added to any kit for $8.95.
Lost Creek Mushroom Farm donates a portion of sales to Mushrooms in Ghana Project, a program of Mushrooms for Well Being Foundation. The Williams' are working with mushroom growers in Ghana, West Africa, to expand the mushroom industry. The project is building a spawn laboratory to help farmers increase their production and profits.
Order online at http://www.shiitakemushroomlog.com or at Amazon.com at slightly higher prices. Phone orders and free brochures are available by calling 1-800-792-0053.