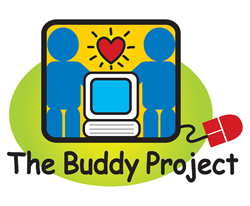 Frederick, Maryland (PRWEB) November 24, 2015
The Buddy Project, a nonprofit that helps the disabled gain access to technology, will host The Buddy Project Ball that includes cocktails, silent auction, dinner and music on Thursday, December 17th, 2015 from 6:30 to 11:00 pm at the Delaplaine Visual Arts Center 40 S. Carroll Street Frederick, MD 21701 to raise awareness and funds for the organization. The tickets are $ 75.00 for one, $100.00 for two, and $500.00 for a table of 10.
"Underwater Fantasea will help support people with intellectual and developmental disabilities become more independent, and learn through technology by providing much needed funding to the program," says Eric D. Zimmerman, founder of the Buddy Project and host of the event. "It's about giving everyone equal access to the technology so that they can have more independence in their daily lives and get stuff done." "Our program is for everyone, rather it be The Buddy Project program itself for the sales and service of "Old Farm Computer" to raise funds for the program while helping keep stuff out of the landfill, It helps everybody" Tickets can be ordered at http://www.thebuddyprojectball.org.
Frederick's own Freddie Long Band will perform an eclectic mix of classic rock, eighties, and original music. http://www.freddielong.com. The event will feature awards presentations such as Volunteer of the Year an award for the volunteer who contributed most to The Buddy Project throughout the past year.
The Event is sponsored by Colonial Jewelers, Plow On Gum, and Shumaker Roofing.
About the Buddy Project
The Buddy Project, founded by Eric Zimmerman in October 2007, is a nonprofit whose mission is to provide refurbished computers for those who are intellectually, developmentally, and physically challenged at no cost to them. Eric was inspired to start his own organization after his volunteer and work experience for Best Buddies. An organization that fosters friendships with those who have special needs. Eric holds a certificate from Frederick County Career and Technology Center in the Cisco hardware and software essentials. He has combined his aptitude for technology and his love of helping individuals with special needs and is committed to creating awareness of the importance for the disabled to achieve independence through learning technology that is not easily accessible to them.