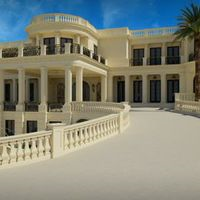 Pompano Beach, Florida (PRWEB) November 24, 2015
According to the real estate website TopTenRealEstateDeals.com, Florida's La Palais Royal, modeled after the Palace of Versailles in France, is back on the market at $159 million - an increase from the previous price of $139 million - and featured this week at the website's Hot Home News.
"The Battle of America's Most Expensive Homes"
Real estate prices continue to increase in Florida and so does the price for America's most expensive home in Hillsboro, Florida. In a battle of the country's priciest for-sale listings, La Palais Royal, modeled after the Palace of Versailles in France, is back on the market at $159 million - an increase from the previous price of $139 million. Temporarily surpassed by Palazzo di Amore in Beverly Hills as the most expensive house at $195 million, the California mansion was recently reduced to $149 million shooting Le Palais Royal back into first place. Other contenders include an East Hampton estate, Briar Patch, at $140 million and a 1930's compound, Rancho San Carlo, in Santa Barbara at $125 million.
Le Palais Royal is located on the Atlantic Ocean, just north of Fort Lauderdale and a long stretch of Pompano Beach condos - a wealthy enclave of ornate mansions that the locals refer to as Millionaires Mile. A special feature unique to the town is that home owners can swim and sun in their oceanfront backyards and then walk a few feet out their front doors to their yachts parked across the street on the Intracoastal Waterway.
Le Palais Royal originally went on the market in 2014 with the $139 million price tag, selling unfinished. After a year with no takers, the owner pulled it off to complete it and make additions both in land and amenities. Now relisted, the additions include another 1.5 acres of land, two 3,000-square-foot guest houses with their own pool and a subterranean entertainment complex with an ice-skating rink, go-kart track, nightclub and a bowling alley. The final stage of construction will take another two years.
The Beaux Arts mansion is on over four acres between 465-feet of Atlantic Ocean beachfront and 492-feet of the Intracoastal near the picturesque Hillsboro Lighthouse. Its public beaches are tricky to get to for non-residents creating a quiet haven of peace away from gawkers and the Fort Lauderdale spring break crowd. The main house has a 30-car subterranean garage and eleven bedrooms which include three master suites and a presidential room with a plunge pool on its outdoor terrace. There is also a 180-seat IMAX home theater with a 50-foot-wide screen. Grounds currently include a putting green, a 26-foot, three-tier fountain, a 4,500-square-foot infinity pool, LED-lit double-loop waterslide and a glass-bottomed Jacuzzi suspended over the swimming pool, white sand beach and large private pier on the Intracoastal. Some of the world's best deep-sea fishing and the Florida Coral Reef are just minutes away by boat via the home's private dock to the Hillsboro Inlet. The listing agent is Mayi de la Vega of One Sotheby's International Realty in Miami, Florida.
Visit TopTenRealEstateDeals.com for more celebrity, historic, famous and spectacular homes.