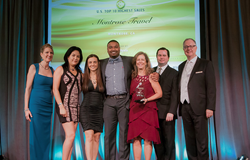 I'm immensely proud of our travel counselors and what they've accomplished...
Montrose, CA (PRWEB) November 24, 2015
For the 42nd year since 1956, Montrose Travel has placed among Ensemble Travel Group's top agencies.
Ensemble Travel Group, a member-owned travel retail organization of approximately 850 top-tier, independent travel agencies in the U.S. and Canada, recognized Montrose Travel on October 27, 2015. Ranking of Ensemble Travel Group's preferred supplier partners was based on 2014 sales, and in addition to the award, Ensemble cited Montrose Travel's continued reputation as a top producer with the consortia and named the family-owned agency in the Top 4 of Ensemble's 850 member agencies.
"Montrose Travel has always maintained a deep commitment to our partners," said President of Montrose Travel, Joe McClure. "Working with organizations like Ensemble allows us to maintain our diverse catalogue of offers and best in industry rates. I'm immensely proud of our travel counselors and what they've accomplished, and just as proud of the rest of our staff who work hard to maintain such great relationships."
The awards ceremony for Ensemble Travel Group's Top Producers was held at the annual Circle of Excellence Gala in conjunction with the Travel Group's 2015 International Conference in Orlando, Florida. The event closed a week of training and networking events, including a keynote session featuring well-known writer and traveler, Anthony Bourdain.
"This award is due to the incredible efforts of our in-house Leisure and Groups divisions as well as the strength brought from the independent travel professionals in our MTravel hosting program," said Montrose Travel Co-President, Andi Mysza. "Together we exceeded our sales expectations for 2014 and are pacing for an outstanding 2015. Congratulations to all!"
Montrose Travel closed 2014 as a $285MM company and remains privately and family-owned.
ABOUT MONTROSE TRAVEL
Celebrating 59 years in business, Montrose Travel, a family-owned travel management company, has grown from 14 employees in 1990 to more than 220 today and is now firmly established as a Top 40 Travel Management Company and a Top 5 Host Agency nationwide at $270 + million in sales. Montrose Travel strives to provide the highest quality services and most complete vacation, corporate, loyalty and group travel management solutions for its customers and home-based travel agents. Montrose Travel "will be here tomorrow to back up our promises of today!" Montrose Travel can be reached at 1-800-MONTROSE (666-8767) or by visiting http://www.montrosetravel.com. Visit Montrose Travel's Corporate Division at http://www.montrosecorporatetravel.com or call 1-800-766-4687. Home-based independent travel professionals may visit http://www.MTravel.com, email epeters(at)montrosetravel(dot)com, or call 1-800-870-5799. CST#1018299-10
###