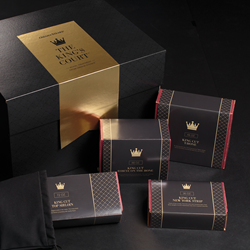 The King's Court is the ultimate luxury gift for the steak lover in your life because it's an exceptional experience from the moment the package arrives at your doorstep
Omaha, NE (PRWEB) December 03, 2015
The handcrafted King's Court package includes the full selection of King Cuts, which Omaha Steaks introduced earlier this year as their biggest steaks ever, including a 48oz. Ribeye on the Bone, 48oz. T-Bone, 36oz. New York Strip, and 72oz. Top Sirloin. Each steak is hand-carved by a master butcher and packaged in a custom gift experience. It starts with a signature sleek black box, impressive in size and adorned with the metallic gold King's Court banner. Inside, elegantly embroidered canvas drawstring bags cradle each custom steak box.
"The King's Court is the ultimate luxury gift for the steak lover in your life because it's an exceptional experience from the moment the package arrives at your doorstep," said Senior Vice President and Family Owner Todd Simon. "This package is designed to wow. It's as much about the experience as it is enjoying these massively impressive steaks."
While specialty cuts of this size have long been offered at a few steakhouses across the country, Omaha Steaks is the first direct mail order company to offer steaks of this size shipped directly to customers' homes. Omaha Steaks King Cuts are the company's thickest steaks available; ranging from 3 to 6 inches, depending upon cut. Because of the weight and thickness, the King Cut steaks require special cooking, Omaha Steaks recommends sear roasting or smoking for the best results.
Omaha Steaks is encouraging customers to place holiday orders prior to Sunday, December 20 to ensure delivery before the holiday. For more information about The King's Court, cooking tips, recipes and other ideas visit http://www.omahasteaks.com/products/King-Cuts.
About Omaha Steaks
Omaha Steaks, founded in 1917, is an Omaha, Nebraska-based, fifth-generation, family-owned company that markets and distributes a wide variety of the finest quality USDA-approved, grain fed beef and other gourmet foods including seafood, pork, poultry, side dishes, appetizers, complete meals and desserts. Today, Omaha Steaks is recognized as the nation's largest direct response marketer of premium beef and gourmet foods, available to customers by calling 1-800-228-9055, online at http://www.OmahaSteaks.com or at retail stores nationwide.