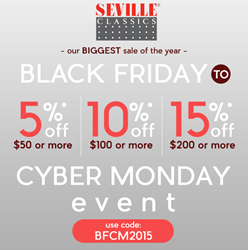 From Black Friday through Cyber Monday, Seville Classics will be offering their biggest sale of the year with savings up to 15% off entire orders.
Torrance, CA (PRWEB) November 25, 2015
Seville Classics, a leader in organizational storage options, is excited to announce details for several upcoming holiday season sales.
The promotions, which represent savings up to 15% off of retail prices, will be in effect following Thanksgiving during the busy Black Friday and Cyber Monday sales.
The promotion offers customers an additional discount based on the size of their purchase. The more a customer spends, the greater the discount will be. The promotions offered include the following:

5% discount on orders of $50-$99
10% discount on orders $100-$199
15% discount on orders $200 and above
In order to apply the additional discount to purchases, customers need to enter code "BFCM2015" at checkout.
The promotion is valid online only from Friday, November 27, 2015, until Monday, November 30, 2015.
As always, Seville Classics offers free shipping on most orders totaling $49 or above.
The promotion includes many products available on https://www.SevilleClassics.com/, including the popular ULTRA HD collection as well as many organizational items. Items in this collection offer a streamlined, modern look that allow for easy storage in areas often pressed for space.
Additional storage items, which offer space without sacrificing style, include rolling laundry sorters, shelf top organizers, and popular rolling wardrobes that create additional closet space on demand. Racks with removable bins make for ease of storage in playrooms, dorm rooms, garages, and craft spaces as well.
About Seville Classics
Based in Torrance, California, Seville Classics specializes in providing functional, beautiful storage systems for a multitude of purposes. Serving customers around the world for more than 30 years, we are able to demonstrate a constant value to the consumer through factory direct pricing, free shipping on most purchases, and an in-house design team able to customize most storage needs. With an extensive online catalog and support offices in Hong Kong and Vancouver, BC, Seville Classics is able to create and distribute products on a global level. We place great emphasis on innovation and sustainability by constantly tracking trends and eco-friendly materials. You can find Seville Classics products in retailers globally, or shop online by visiting https://www.sevilleclassics.com/