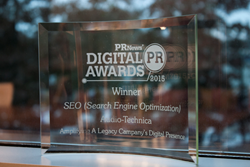 EATONTOWN, N.J. (PRWEB) November 23, 2015
lotus823, a leading integrated marketing communications agency, is proud to announce its recognition in PR News' Digital PR Awards and 2015 Agency Elite Awards.
The agency won a PR News Digital PR Award in the SEO (Search Engine Optimization) category for its work with Audio-Technica. The award recognizes lotus823's achievement in enhancing the legendary audio company's digital presence through content marketing.
lotus823 also earned an Honorable Mention at PR News' 2015 Agency Elite Awards in the Integrated Communications category for Peerless-AV's B2B Thought Leadership Program. lotus823 strengthened Peerless-AV's presence as an industry thought leader through a multi-tier strategy integrating social media, public relations and content development.
"We are honored to be recognized for our work by an esteemed publication like PR News," said Katie Foley, Director of Client Relations, lotus823. "We are happy to not only accomplish success for our clients, but to also be recognized for campaigns that truly resonated with our industry peers."
Established over 70 years ago, PR News is the leading publication for public relations professionals worldwide. PR News is dedicated to keeping PR pros up to date on the latest industry news, as well as enhancing their skills across all forms of communication.
For more information about PR News and its award programs, please visit http://www.prnewsonline.com.
About lotus823
lotus823 is an integrated marketing communications agency dedicated to helping brands increase their visibility and engage their audiences through content marketing, experiential events, Hispanic marketing, public relations, and social media services. Headquartered in New Jersey, and serving B2B and B2C companies nationwide in industries spanning consumer electronics, food and beverage, health and wellness, technology, and more, lotus823 develops and executes customized marketing strategies utilizing an integrated, results oriented approach. Visit http://www.lotus823.com for more information.
Connect with lotus823 on Twitter at http://twitter.com/lotus823 and Facebook at http://www.facebook.com/lotus823.
Media Contact
Beth Gard
bethg(at)lotus823(dot)com
732-212-0823