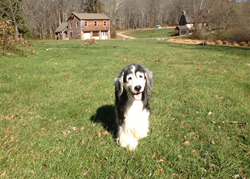 The ability to follow these dogs and document any health or behavioral effects of their heroic service is invaluable. Dr. Cindy Otto
Raleigh NC (PRWEB) November 24, 2015
Dr. Cindy Otto and her team at the University of Pennsylvania's Penn Vet Working Dog Center have monitored the health and behavior of the search and rescue dogs involved in the 9/11 rescue and recovery efforts in New York City and Washington DC since October 2001.
The long-term medical surveillance study, funded for the past 14 years by the AKC Canine Health Foundation (CHF), began with the enrollment of 95 of the search and rescue dogs deployed to the World Trade Center, the Staten Island Landfill, and the Pentagon following the terrorist attacks of September 11, 2001. Fifty-five non-deployed search and rescue dogs also served as controls for the study. According to Dr. Cindy Otto, "The ability to follow these dogs and document the health and behavioral effects of their heroic service is invaluable."
Today, three of these remarkable dogs are still living and continue to be monitored as part of the study. Morgan, a 16-and-a-half year old English Springer Spaniel, and Bretagne, a 16- year-old Golden Retriever, were both deployed in the rescue and recovery efforts following 9/11. Tookie, a 15-and-a-half-year-old year old Airedale Terrier, is part of the non-deployed control group.
Participating dogs are monitored through annual examinations, which include blood tests and chest radiographs. Data from these tests are being analyzed to determine the health impact of deployment on the search and rescue dogs. According to Otto, the preliminary data have not shown a significant difference in incidence of cancer or in the median age at death between the deployed and control dogs, but this additional funding will allow for the complete analysis of the full set of data.
"Insights from this long-term medical surveillance study will provide vital information to handlers, trainers, and veterinary professionals on the health and well-being of dogs deployed on search and rescue missions," said Dr. Diane Brown, Chief Scientific Officer of CHF, "and may provide insights to human exposures as well. CHF is honored to have provided study funding over the course of the entire lifetimes of these working dogs following their exposures on 9/11."
The full article can be accessed at http://www.akcchf.org/september11study.
The AKC Canine Health Foundation bridges the gap between veterinary research and dog lovers by raising funds to support over $1 million per year in new canine health research grants regardless of breed. This research has led to numerous breakthroughs in disease prevention and treatment in the areas of behavior, epilepsy, cancer, cardiology, musculoskeletal injuries and disease, and bloat, among others. Currently, over 100 active research projects are being supported by funds raised by the Foundation from corporate donors, dog clubs, and dog lovers across the globe.
Donations to support the Foundation's canine health research can be made by calling 1-888-682-9696 or visiting the AKC Canine Health Foundation website http://www.akcchf.org/donate.
# # #
About the AKC Canine Health Foundation
The Raleigh, NC-based AKC Canine Health Foundation is in its 20th year of leveraging the power of science and research to improve the lives of dogs and their people. The Foundation is dedicated to preventing, treating, and curing diseases impacting all dogs while providing unbiased, professional information and resources for a new breed of dog owner. Take action because you care; find out more online at http://www.akcchf.org.